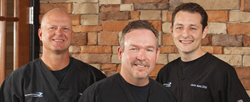 Fort Worth, TX (PRWEB) April 02, 2014
To ensure that patients have access to the dental care that they need, Fort Worth Dental now offers patients various financing options as part of its CareCredit program. Patients can apply for financing to cover various procedures, including the placement of dental implants to replace missing teeth and laser gum surgery to treat periodontal disease.
As many patients know, there are numerous dental procedures that may not be fully covered by insurance. While patients may be able to delay some procedures without experiencing harmful effects, patients may experience health consequences if they put off certain procedures for too long. Patients with gum disease who seek laser gum surgery early, for example, can reduce the damage done to healthy tissue and improve their likelihood of keeping their teeth. Similarly, patients who have lost teeth can receive dental implants to stabilize their bone density and tooth alignment, but if the procedure is delayed, changes in tooth placement and bone density may occur.
The CareCredit program offers Fort Worth Dental patients flexibility to decide what financing option is most advantageous. Patients may choose repayment terms ranging from six to 60 months, depending on what they can afford on a monthly basis. With certain expenses, patients may even qualify for special financing terms that make repayment easier. Patients can also use a convenient online calculator to compare the monthly and total costs of their different financing options. Anyone who is interested in obtaining financing can complete the application easily and find out whether it has been approved in very little time.
Fort Worth Dental patients who are concerned about covering the cost of procedures like laser gum surgery and dental implants are encouraged to look into the different financing options available through the CareCredit program. Patients who have additional questions about financing or treatment options are encouraged to call Fort Worth Dental or visit the practice website for more information.
About the Practice
Fort Worth Dental is a general practice offering personalized dental care for Fort Worth, TX patients. Dr. Terry M. Zang, Dr. Arthur J. Mund and Dr. Justin Mund are all dedicated to their dental practice, which offers the LANAP® FDA cleared laser procedure for gum disease treatment. Focused on preventative, restorative and cosmetic dentistry, they each have unique attributes for the practice. To learn more about Fort Worth Dental and their services, visit their website at http://www.fortworthdental.com and call (817) 900-9470.