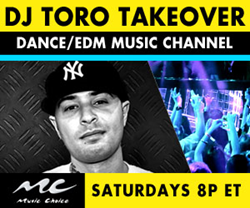 DJ Toro stated: "I am super excited to be chosen by Music Choice for their April Residency! I look forward to represent NY and also for being a part of this amazing new outlet for people to hear mixes on their television!"
New York, NY (PRWEB) April 03, 2014
Music Choice continues its DJ Residency program on the very popular Dance/EDM Music Channel with DJ Toro from NYC taking over the entire month of April. DJ Toro will kick off his residency Saturday, April 5 from 8pm ET- midnight. Music Choice's Dance/EDM Music Channel attracts over 1.4 million listeners weekly and is available in over 50 million homes.
DJ Toro stated: "I am super excited to be chosen by Music Choice for their April Residency! I look forward to represent NY and also for being a part of this amazing new outlet for people to hear mixes on their television!"
As part of the residency program, DJ Toro will be taking over Music Choice's Dance/EDM Music Channel every Saturday night, April 5-26th, from 8pm ET- midnight. DJ Toro will provide a four hour block of mixes each week featuring some of the hottest dance artists including Zedd, Tiesto, Hardwell, Afrojack Steve Aoki, and more. In addition to the music, customized facts and photos of DJ Toro will appear on screen to accompany the music mix.
Born and raised in Coney Island, the legendary heart and soul of Brooklyn, DJ Toro has been at the epicenter of DJ culture from the start. With his first DJ residency at the mega-watt Hunka Bunka in NJ, to his regular gig on the hottest tri-state (New York, NJ, and CT) area radio station, 92.3 NOW-FM, it's no surprise to fans that Toro was voted "Best MixShow DJ" in America. His signature style takes the best of Top 40 radio culture and re-mixes it to spin that "WOW" factor. Not one to miss a beat, he also fills over 250 bookings a year throughout the tri-state area at the hottest clubs and lounges. When he hits the club scene each week, you'll find Toro at many of New York City's clubs like Pacha, and Webster Hall, two of the most talked-about and desirable clubs in the country. Follow DJ Toro on twitter @deejayTORO or on Instagram search djtoro.
Music Choice kicked off their DJ Residency Program in March 2014 with Vice. DJ Toro is the second DJ to participate in the program. Additional DJ's will be announced throughout the year. To listen to the Takeover Block online visit: http://bit.ly/MCDanceEDM
About Music Choice:
Music Choice, the multi-platform video and music network, delivers its music programming to millions of consumers nationwide through their televisions, online and mobile devices. Music Choice programs dozens of uninterrupted music channels; produces originals that feature today's hottest established and emerging artists; offers thousands of music videos; and launched Music Choice Play, the music video, lifestyle and entertainment network for Millennials. For additional information log on to http://www.MusicChoice.com | Twitter: @MusicChoice | Facebook: http://www.facebook.com/MusicChoice