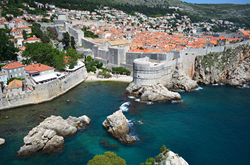 "Game of Thrones," "Mad Men" and "Deadliest Catch" provide thrilling and chilling on-screen drama that leads to amazing real-life explorations
San Francisco, CA (PRWEB) April 03, 2014
Why watch when you can do? Viator, the leading provider of tours and activities worldwide, has a collection of experiences that bring travelers and fans "on location" of some of today's most watched and most talked about television shows. "Game of Thrones," "Mad Men" and "Deadliest Catch" provide thrilling and chilling on-screen drama that leads to amazing real-life explorations in places like Dubrovnik, New York City and the Bering Sea of Alaska.
Game of Thrones
Despite one of the bloodiest and deadliest season finales, this season of the HBO series Game of Thrones returns with plenty of action and intrigue April 6. Travelers can walk among the beautiful and bewitching backdrops of this blockbuster show in Dubrovnik, Belfast and Valletta (Malta), and brand new to the Viator line-up, Akureyri, Iceland.
Dubrovnik

Belfast

Malta

Iceland

Mad Men - NEW
While the era of the sophisticated style of 1960s Madison Avenue may be coming to its AMC series conclusion, the Mad Men Cocktail Tour of New York will make sure the legends of Betty and Don Draper live on. With afternoon and evening options, fans of the show (who are encouraged to dress in vintage style) will sip cocktails from Mad Men-featured establishments as they learn about the history of NYC's ad industry.
Deadliest Catch - NEW
Travelers can find out what life is like as a commercial fisherman in Alaska during the Bering Sea Crab Fisherman's Tour from Ketchikan. Board the Aleutian Ballad, a commercial fishing boat that was featured on the Discovery Channel's popular show Deadliest Catch, to watch the expert fishing crew set their pots and haul their catch of king crab, box crab, and more on deck.
Viator's selection of insider, on-location experiences include Downton Abbey, Lord of the Rings, Sex and the City, The Sopranos and more. Travelers can visit the Viator Travel Blog for inspiration, and stay up-to-date with the latest from Viator on Facebook (ViatorTours) and Twitter (ViatorTravel).
About Viator
Viator is the leading global tours and activities provider for travelers, delivering online and mobile access to thousands of curated trip activities including tours, attractions, shore excursions and private guides, in more than 1,500 destinations worldwide. In-house travel experts work with trusted local operators to ensure the quality and value of every experience, all backed by Viator's 24/7 customer service and global low-price guarantee. With more than 500,000 verified reviews plus exclusive videos and insider travel tips, Viator has everything a traveler needs to find and book the best things to do worldwide. In addition to the flagship site – Viator.com – travelers can book in advance or in-destination via the Viator Tours and Activities App, as well as local-language sites for European, Latin American and Asian travelers. Viator also provides tours and activities to more than 3,000 affiliate partners including some of the world's top airlines, hotels and online travel agencies. Founded in 1995, Viator is a privately held company headquartered in San Francisco with regional offices in Sydney, London and Las Vegas. Viator – travel with an insider.