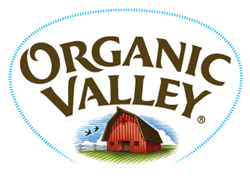 'Generation Organic is literally the future of farming and the future of CROPP/Organic Valley,' said Abbie Corse, a farmer and Generation Organic member in Whitingham, VT.
La Farge, WI (PRWEB) April 03, 2014
Organic Valley, the nation's largest cooperative of organic farmers and a leading organic brand, celebrated its next generation of organic farmers by awarding three of its young farmer-owners with Generation Organic™ (Gen-O) Awards. Generation Organic is a group of Organic Valley and Organic Prairie farmers aged 16 to 35 who represent the next generation of sustainable agriculture leaders and who believe in the power of organic farming to change the world. The 2014 Gen-O Awards were presented at the cooperative's annual meeting award banquet on April 2nd in La Crosse, Wis.
The Gen-O Awards were created in 2008 to recognize young farmers in CROPP Cooperative who have demonstrated their commitment to organic farming and preserving family farms and rural communities through leadership, stewardship and innovation. As we look to the future of farming, it is vitally important to support the farmers of tomorrow who will ensure that delicious, local, and sustainable organic food choices exist for generations to come. For more information about Generation Organic and the Gen-O awards, please visit http://ov.coop/geno.
"Generation Organic is literally the future of farming and the future of CROPP/Organic Valley," said Abbie Corse, a farmer and Generation Organic member in Whitingham, VT. "Every scrap of hard work that has gone into creating this incredible cooperative is fully dependent at the end of the day on the younger generations feeling as passionate as those before them to continue on in the same fashion."
Three Gen-O Award winners are selected each year from across the country. Among other recognition and opportunities, they are each awarded $1,000 to further their farm development or leadership, and an all-expenses-paid trip to the CROPP Annual Meeting in 2014.
Recognized during a banquet on April 2nd in La Crosse, Wis., the three 2014 Gen-O Award winners are:
Sarah Hardy of Mohawk, NY
Adam Lange of Platteville, WI
Melissa Collman of Boring, OR
(more)
Sarah Hardy of Herkimer County, NY
Sarah Hardy did not grow up on farm, but she tried her best to make her parents' 25 acres in western New York State into one. She joined her local 4-H club at age 8 and learned how to raise, market and show animals. Pretty soon there was a flock of sheep at home, not to mention pigs, horses and beef cows.
Sarah was not familiar with organic farming until she met her husband, Aaron Hardy, who is the son of longtime Organic Valley farmer-owners Susan and Dave Hardy.
"Once you see the Hardys' farm, it can really convert you. It's beautiful, and the animals are so well taken care of. They're raised on pasture and rotationally grazed to fresh grass after every milking. I've really come to love being on an organic farm. It's just so much more comfortable and natural."
Aaron is in charge of the day-to-day operation of the farm, and Sarah works as a teacher's aide during the school year. In summer, she works full time on the farm and is in charge of calf care.
"I want to be a full-time farmer. That's what I grew up wanting and what I went to school for. Our goal is to be able to farm together and raise our family on the farm."
Adam Lange of Grant County, WI
Organic farming isn't just something Adam Lange does; it's a philosophy he lives by: respect all living things, support each other, and work toward a better future.
In 1994, Adam was only three when his father, Rich Lange, transitioned their farm to organic. Today the Lange family raises cattle, hogs and poultry for Organic Prairie and direct-markets their meats to local and regional stores, farmers markets and restaurants. Because Lange Farm Meats is a grass-based operation, all the animals have access to the outdoors and grass. Cattle are grazed and grass-finished on pastures consisting of grasses, alfalfa and clovers.
Presently Adam's a senior at the University of Wisconsin-Eau Claire, but farming is a huge part of his life. "I'm an organic farmer because of my dad, so of course I'm always learning from him, but I really enjoy going to organic farming conferences and meetings and learning new things. I think the most effective baseline organic farming method we practice is grazing and keeping our animals outside as much as possible. Managing the overall well-being of our animals is critical. It's a lot of work, but I feel it's worth it to provide a healthier product."
Melissa Collman of Clackamas County, OR
Melissa Collman is a 4th generation farmer on her family's dairy in Oregon. Melissa and her husband, Andy, work in partnership with Melissa's father and mother, Organic Valley farmer-owners Gary and Connie Moore.
Before Melissa's dad transitioned the farm to organic in 2004, she was not optimistic about a future in farming. The first year of the transition was tough, but after about two years, she could see they were pulling out of the hole. "I knew for sure this is what I wanted for our family. We watched the cows get stronger. While we always pastured our cows, after we transitioned, we learned how to graze them more effectively so that most of their diet comes from forages."
Melissa and Andy enjoy hosting farm tours for local and inner city schools, and Melissa goes to classrooms to educate kids about dairy farming. They also "lease" (for free) some of their animals to 4-H kids so they can learn how to care for them and show them at the county fair.
Meanwhile, Melissa and Andy and her parents raise the 5th generation of humans on Cloud Cap Dairy. "The kids love to help Grandpa and Dad and me," Melissa says. "My oldest daughter has ridden with her dad on the tractor and fallen asleep there, just like I did when I was a kid. This is a sustainable life, and I'm so glad we're here to live it."
Organic Valley: Independent and Farmer-Owned
Organic Valley is America's largest cooperative of organic farmers and one of the nation's leading organic brands. Organized in 1988, it represents 1,844 farmers in 36 states. Focused on its founding mission of saving family farms through organic farming, Organic Valley produces a variety of organic foods, including organic milk, soy, cheese, butter, spreads, creams, eggs, and produce, which are sold in supermarkets, natural foods stores and food cooperatives nationwide. With its regional model, milk is produced, bottled and distributed right in the region where it is farmed to ensure fewer miles from farm to table and to support our local economies. For further information visit http://www.organicvalley.coop. Organic Valley is also on Twitter @OrganicValley and Facebook http://www.facebook.com/OrganicValley.