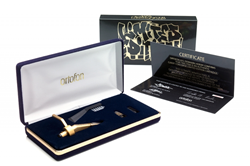 "It's unheard of that the Twins would design this for us, after collabs with Louis Vuitton, Hennessy, and Banksy, our company is appreciative and truly honored." - Yogafrog
(PRWEB) April 03, 2014
This highly collectable piece of art is the first of its kind. With OsGemios pieces selling on average for $100k, this commemorative collaboration gives both art collectors and musicians alike the opportunity to add an affordable, functional piece to their arsenal. A limited run of only 500 pieces manufactured, all signed by DJ QBert, OsGemios and Ortofon CEO Christen H. Nielsen, ensures appreciation over time.
It doesn't take more than a quick keyword search on Behance or DeviantArt to get swept away by the signature visceral aesthetic of OsGemeos. Identical twin brothers, Otavio and Gustavo Pandolfo, former break dancers turned graffiti artists and now high end street art impresarios, recently made headlines when commissioned by Louis Vuitton to design a scarf collection and tapped to create a label for the Hennessy V.S Limited Edition Cognac. The Twins are now represented by the same New York art gallery as Tracey Emin and sell work on canvases for more than $100,000 apiece. Collectors purchasing this item are essentially investing in the stock market.
Like QBert, they were highly influenced by hip-hop & graffiti culture ultimately developing a distinct style all their own. Street art in the spirit of Banksy with high respect for the DJ as Bua.
Richard Quitevis aka DJ QBert has captured the imagination of the trinity between underground hip hop, turntablism and now high profile art with his innovative & complex style. QBert and Yogafrog, along with the Invisibl Skratch Piklz, are synonymous with the evolution of the DJ world. QBert and his brand Thud Rumble are responsible for advancements in DJ tools such as the best selling Dirtstyle battle records, and Butter Rugs, the most widely purchased slip mat in the world.
Along with the Vestax QFO all in one turntable, the classic Vestax mixer and a line of high profile Monster cables for optimum audio connection between devices. It is as a continuation of innovating new equipment and tools available to todays DJ. In an effort to top past achievements, Thud Rumble and Ortofon announce the release of this the Q Bert 10th Anniversary Concorde which is not only a needle, but a functional art piece.
The Cartridge
In the spirit of pure Ortofon sound, nothing is outsourced. Every component from the rubber to the metal compounds are created at their facility. With unsurpassed handling, high output voltage, low wear characteristics, supreme anti-skipping and an extremely strong output of 11-12mv, the Concorde will be the new unrivaled standard for both scratching and mixing. The Concorde Q.Bert Stylus also features a more subdued high-end, which helps to minimize surface noise from worn vinyl, and an accentuated mid-range to help bring scratching to the front of the sound stage.
Commanding almost a century of dominance as leaders in DJ (performance) equipment and a rich history of exclusive in-house design and engineering, Ortofon is the brand of choice for musicians all over the world. As the frontier of Djing evolves, a new perfect needle is needed. Thud Rumble's unique expertise and market leadership have them ideally poised for the challenge. The entire team will be celebrating the release of this collaboration with a showcase at San Francisco's historic 111 Minna on Tuesday April 15th.
Pre-Order Now: http://qbertxosgemeos.com
RSVP for release party: http://qbertxosgemeos.eventbrite.com
ABOUT ORTOFON
Ortofon is the world's leading specialist and a developer of acclaimed HiFi phono cartridges, tonearms and high-end audio cables. Our products provide the most faithful and correct reproduction of analog recorded sound. Ortofon DJ cartridges, styli and headphones are applauded by DJs, musicians and discerning listeners alike. Delivering highly accurate sound reproduction, Ortofon Concorde and OM cartridges are the DJ community's favorite choice.
ABOUT OSGEMEOS
Gustavo and Otavio Pandolfo were born in 1974 in São Paulo, Brazil and continue to live and work in the country's biggest city. Passionate about art since childhood, OSGEMEOS engaged with the culture of Hip Hop since the mid '80s. In the early '90s, they were invited to participate in public interventions and individual and group exhibitions in museums and galleries. In 2006, they held their first solo exhibitions in the United States and Brazil. Since then, they have exhibited works and developed projects in numerous cities in Brazil, North America, Europe and Asia. The brothers' work is based on their experiences in São Paulo city, and merges elements of reality with imagery from the artists' peculiar perspective, creating a playful and authentic universe.
ABOUT DJ QBERT
Richard Quitevis was born October 7, 1969, in San Francisco, California. Known by his stage name DJ Qbert or Grandmixer Qbert, is a Filipino-American Turntablist and composer. He is often referred to as the Jimi Hendrix of the turntables, known to make them sing in complex and unimaginable ways. He has invented the most scratching techniques and musical innovations than any DJ in history. QBert is credited for being the world ambassador of the DJ as a musician and turning the turntable into a respected musical instrument.
DJ QBert delivers on this discipline like no other DJ. Along with dear friend Roc Raida of the X-Ecutioners they are the only two DJs in history that have been Knighted by the Grand Masters of the Hip Hop culture. His peers and the media call him the Greatest DJ in the World, one of the most influential DJs of all time.
ABOUT THUD RUMBLE, LTD.
Thud Rumble LTD. is a diversified media management company committed to showcasing and expanding the world of the skratch DJ. Working with multi-talented artists in the music industry, Thud Rumble manages musical production, feature film, event architecture, global product manufacturing & distribution, investments, international licensing, Internet properties, and artist management. By creating synergy in these areas, Thud Rumble has been able to enhance and effectively drive the DJ culture internationally. Thud Rumble noted by DJ TIMES was key in transforming the world of the Disc Jockey into a multibillion-dollar industry.
On social media, join the ThudRumble community on facebook, twitter & youtube.
Thud Rumble Gallery
130 Park Boulevard
Milbrae, California 94030