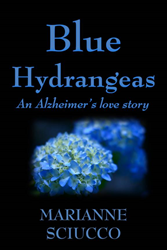 "This book is my story too." - an Amazon reader review
Middletown, NY (PRWEB) April 15, 2014
Caregivers for loved ones with Alzheimer's disease and other dementias have given a warm response to Marianne Sciucco's debut novel "Blue Hydrangeas," an Alzheimer's love story.
"The response is humbling and surprising," says Sciucco, a registered nurse and certified case manager with years of experience working with these patients and their families in an upstate New York hospital and local nursing homes. "When I published the book, I wasn't too sure people who had actually lived through the experience of my characters, Jack and Sara, would want to read about it as entertainment. Yet, as the reviews slowly trickle in, I'm finding that the majority of them are from caregivers who identify with the book, and they love it. Their willingness to reach out to me and show me how this book has affected their lives is both unexpected and inspiring."
"Blue Hydrangeas" is the sad but beautiful story of a pair of retired Cape Cod innkeepers struggling with the wife's Alzheimer's. First published on Kindle in April of last year, then in paperback, and recently in audiobook, it has 48 reader reviews, 35 of them 5 star, and an average rating of 4.7 stars. It's hit number one in Kindle's medical fiction genre three times. The online writers conference IndieReCon recently awarded the novel its first ever "Best Indie Novel Award." Readers have written heartfelt and moving reviews:
"This book is my story too," writes one reader who cared for a mother who succumbed to the disease and now cares for her mother's widowed husband.
Another caregiver writes: "While reading Marianne Sciucco's fictional story, I was taken back to the years of caretaking and decision making for my own parents who both died of Alzheimer's disease. Thank you, Marianne, for writing a beautiful love story portraying the honest devastation of the disease, yet reinforcing the desire to preserve the dignity of those afflicted."
A reader who cared for both parents who had Alzheimer's wrote: "Thank you, Marianne, for writing a beautiful love story portraying the honest devastation of the disease, yet reinforcing the desire to preserve the dignity of those afflicted."
"What a warm, comforting read this is!" writes another who's father had Alzheimer's. "It's obvious the author writes from a vast store of knowledge about Alzheimer's Disease -- and a deeply-held compassion for its victims and their families. But this doesn't dominate the book -- its characters do, and she draws them fully and sensitively. While Alzheimer's Disease is the 'engine' that propels the plot, the characters are what makes one love the book. It's hard to believe it's not non-fiction because they seem so real."
Sciucco says honoring those with the disease and also those who care for them was very important to her while writing the novel. "I wanted to get it 'right,'" she says. "I did research and interviewed caregivers while I wrote. Nothing is more satisfying than when a caregiver tells me I did, indeed, get it 'right.'"
Sciucco says another important goal of the book was to alert readers to signs of a caregiver in distress, and how to reach out to help before the situation reaches a breaking point. "Caregiving is often grueling, thankless work, and many people operate on their own, with little support from family or community. While my characters, Jack and Sara, have the ability and resources to ask for and receive help, Jack, like so many caregivers, refuses to do so, and forges on at his own physical and mental expense. This is quite common." Caregivers need respite, whether professional or through the kindness and concern of friends and family, says Sciucco.
In recognition of April's designation as "Couples Appreciation Month," Sciucco has lowered the price of her eBook to .99 beginning April 15 through April 30 on Kindle, Nook,and iBooks. "Blue Hydrangeas" is also available in paperback and audiobook through Amazon, Audible, and iTunes.
About the Author
Marianne Sciucco is not a nurse who writes but a writer who happens to be a nurse. A lover of words and books, she studied the craft of writing as an English major at the University of Massachusetts at Boston and briefly worked as a newspaper reporter in New England. To avoid poverty, she became a nurse. In 2002, she began writing about the intricate lives of people struggling with health and family issues. She published her debut novel, "Blue Hydrangeas," an Alzheimer's love story, in 2013 to glowing reviews. It soon became a Kindle bestseller and recently won IndieReCon's Best Indie Novel Award. She lives in upstate New York, and, when not writing, works as a campus nurse at a community college.