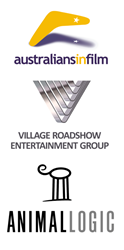 Los Angeles, CA (PRWEB) April 03, 2014
Australians in Film, a Los Angeles based non-profit organization that serves as the industry guild for Australian filmmakers and performers in the US, announced that applications are now open for the inaugural Village Roadshow Entertainment Group (VREG)/Animal Logic Entertainment Fellowship. The program enables Australians to visit Los Angeles to learn aspects of feature film development, acquisitions, packaging and production.
Applications are open now and will be available until May 31st at at http://www.australiansinfilm.org/entertainmentfellowship. The chosen candidates will be announced in late July 2014.
The VREG/Animal Logic Entertainment Fellowship is dedicated to fostering educational development and training in the film industry. The internship is open to undergraduate and recent graduate students. Applicants must demonstrate a commitment to the film business, with a clear strategic plan for how their proposed internship would support long-term career goals.
The internship includes professional development opportunities, such as practical paid work experience at both Village Roadshow Pictures' and Animal Logic's offices in Los Angeles, as well as networking with Australians in Film Board members, industry members and ambassadors.
"The partnership is a natural step given Village Roadshow's international presence and Animal Logic's growing influence in Hollywood," explained Australians in Film President Tracey Vieira. "We are thrilled to be working with both of them."
For additional information, please visit http://www.australiansinfilm.org/entertainmentfellowship.
ABOUT AUSTRALIANS IN FILM
Founded in May 2001, in celebration and support of Australian film and television artists and their work, the Los Angeles based non-profit organization holds regular screenings, seminars and labs, and currently has over 600 members. For further information please visit http://www.australiansinfilm.org.
ABOUT VILLAGE ROADSHOW ENTERTAINMENT GROUP 
Village Roadshow Entertainment Group is a leading global entertainment company building premier, content-rich businesses in the entertainment industry. VREG employs innovative strategies to produce, acquire and deliver intellectual properties with timeless appeal, while maximizing group-wide strategic and operational efficiencies. VREG is the holding company of Village Roadshow Pictures and Village Roadshow Pictures Asia. 
ABOUT ANIMAL LOGIC
One of the world's most highly respected digital production studios, Animal Logic produces and develops award-winning design, animation and visual effects for the film and television industries.
Credits include Legend of the Guardians: The Owls of Ga'Hoole, Happy Feet, LEGO® Star Wars®: The Padawan Menace (TM), 300, House of Flying Daggers, Moulin Rouge, Hunger Games: Catching Fire and Iron Man 3.Animal Logic recently completed production on feature films: Walking with Dinosaurs: The Movie, The Great Gatsby, The Rover and The LEGO® Movie. The studio is currently in production on Angelina Jolie's, Unbroken and Chen Kaige's, The Monk.