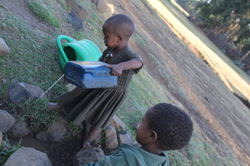 The water was full of mud, dirt, and all kinds of leeches and worms. Animals, both domestic and wild, as well as birds and insects took their portion from the same source.
Phoenix, AZ (PRWEB) April 03, 2014
On April 7, World Health Day will be observed globally, highlighting the continued need to establish sanitation, medical care and hygiene education and systems worldwide. Across the world, approximately 780 million people, roughly one in nine, lack access to an improved water source, according to UNICEF and the World Health Organization. In Africa alone, 345 million are without potable water.
In Ethiopia and other vulnerable regions of the world, Food for the Hungry (FH) partners with impoverished communities to build projects that create accessible drinking and irrigation water as well as sanitation systems for decreasing the spread of disease and water contamination.
In 2013, 247 communities and 199,102 people worldwide benefited from an FH clean water program, project or initiative.
In countries like Ethiopia, water sources are limited and women and children often walk for more than an hour to fetch water. Many times water is from unprotected sources, mainly rivers and springs, and is contaminated. This water causes widespread diarrhea, intestinal parasites and eye disease.
Melkie Yaregal, an Ethiopian single mother of four, lives in the district of Simada where 54.5 percent of the population has access to potable water. She recalls what life was like prior to their community partnership with FH.
"[Our] water source, the spring, was not far from our village, but its flow was very small, and we were forced to wait half a day in a queue to get 20 liters of water. The water was full of mud, dirt, and all kinds of leeches and worms. Animals, both domestic and wild, as well as birds and insects took their portion from the same source. We had neither a washing basin for our clothes nor clean shower to wash our bodies."
The effects of limited potable water are often aggravated by a lack of latrines, poor environmental sanitation and poor hygiene. Due to unclean water conditions and water scarcity, parents in Simada were unable to maintain their children's sanitation and cleanliness, having little or no personal training in hygiene and sanitation. Until recently, open defecation was common, causing children to suffer from intestinal parasites and eye diseases.
In order to address water issues like these holistically, FH forms water committees in communities to empower the residents to create a solution that best meets their specific water problems. Communities invest in labor and resources to help dig, build and maintain wells and other water sources, ensuring that the community takes ownership in maintaining water sources. Committees are trained on how to maintain water systems, so future generations can enjoy clean, drinkable water.
In Simada and three other Ethiopian districts, community water committees worked with FH to build a total of 116 water supply systems in 2012 and 2013 including 64 springs, 43 hand-dug wells and nine rainwater harvesting reservoirs, benefiting about 39,000 people. In Simada, the committee developed a multipurpose spring for a clean supply of water, constructed a cattle trough, showers and community wash basins for clothing. Across all four districts, for most residents the amount of time spent traveling to fetch water was decreased by 50 percent.
The hygiene and sanitation training has also brought significant change to the community. Each household prepared pit latrines in order to eliminate open defecation. Some communities have been declared to be free from open defecation by the local health office and local government.
"As a single mom, I am trying my best to send my children to school. These days, we are lucky and have a clean water supply for drinking and sanitation. If FH did not construct these water facilities, we would continue to suffering from illnesses that we keep getting from our filthy water source," said Melkie.
Founded in 1971, Food for the Hungry provides emergency relief and long-term development programs with operations in more than 20 countries to help the world's most vulnerable people. Learn more by visiting http://www.fh.org. Social connections include http://www.facebook.com/foodforthehungry and http://www.twitter.com/food4thehungry.