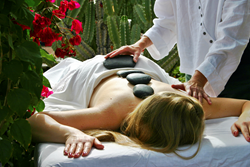 Temecula, California (PRWEB) April 03, 2014
"Eleven down-to-earth Temecula Valley Southern California Wine Country indulgences include a Grape Escape balloon adventure, Baily Estate wine tasting, Spa Pechanga Bamboo Massage, Vineyard Rose Chef's Table, Journey at Pechanga, Leoness Cellars wine tasting, Temecula Olive Oil tasting, Thornton Winery Champagne Jazz gourmet supper, Umi Sushi and Oyster Bar, Vail Ranch Steakhouse, and GrapeSeed Spa's Vino Vinyasa," announced Kimberly Adams, Temecula Valley Convention & Visitors Bureau president and CEO. "Less-busy weekdays are ideal for such luxury experiences. Hotels' and resorts' Sunday-through-Thursday nightly room rates are also appealing. The value and savings provide resources to enjoy more days of outdoor adventure, seasonal dining and artisan foods, and wineries' and wine tasting rooms' new releases." Welcoming 2 million visitors each year, the picturesque Temecula Valley is located 60 minutes from San Diego, Orange County, Palm Springs; 90 minutes from Los Angeles and Hollywood.
1-A Grape Escape Private Balloon Adventure
Floating silently at sunrise, a private hot air balloon flight with A Grape Escape provides spectacular views of Temecula Valley Wine Country. Afterwards, guests celebrate at Europa Village Winery with chilled sparkling wine, orange juice, and picnic-style continental breakfast.
2-Baily Estate Private Reserve Vertical Wine Tasting Experience
Baily Winery's exclusive tasting experience includes five estate vintages of a single Baily wine (Meritage, Cabernet Sauvignon, Cabernet Franc, or Merlot) presented side-by-side in five individual wine glasses. Guests identify and enjoy subtle nuances and differences.
3-Bamboo Massage at Spa Pechanga
Voted one of Southern California's top spas, Spa Pechanga offers a 60- or 90-minute Bamboo Massage. Masseuses use hand-carved bamboo rods wrapped with ultra-soft cotton, to work over the back, legs, arms, and neck; and alternate direct pressure using their hands and arms.
4-Chef's Table at South Coast Winery's Vineyard Rose
The restaurant at three-time California State Winery of the Year, South Coast is recent Wine Spectator Award of Excellence-recipient Vineyard Rose. Chef's Table fine dining includes five chef-served, contemporary, wine-country cuisine courses paired with award-winning South Coast wines.
5-Golfing Journey at Pechanga
Designed by Arthur Hills and California Top 20 rated by GolfWeek magazine, Journey at Pechanga takes full advantage of awe-inspiring terrain often with majestic Temecula Valley views. The signature Hole 6 has the largest elevation drop of any California course.
6-Leoness Cellars Private Customized Wine Tasting
Leoness Cellars offers a variety of private tour and tasting programs with customizable elements. From private after-hours VIP tastings to proposal packages, the Leoness VIP Hosting and Touring department creates exclusive experiences.
7-Temecula Olive Oil Tasting
Temecula Olive Oil Company offers complimentary tasting of fresh, pure, flavorful, 100% California, 100% extra virgin olive oil. Limited edition, hand-blended olive oils include Fresh Basil (with fresh, organic California basil) and Citrus Reserve (with fresh California blood oranges).
8-Thornton Winery Champagne Jazz Gourmet Supper Package
Thornton Winery concerts are complimented by a 3-course gourmet supper. Concerts on the Mediterranean terrace overlooking the vineyards include renowned artists like Boz Scaggs, Peter White, Chris Issak, George Benson, Lee Ritenour, Kenny G, Chris Botti, and Al Jarreau.
9-Umi Sushi and Oyster Bar at Pechanga Resort & Casino
The new Umi Sushi and Oyster Bar's inviting ambiance and whimsical South American flair are the backdrop for menu selections like sushi, sashimi, hand rolls, cut rolls, raw bar, and inventive small plate and big plate (entrée) seafood selections.
10-Vail Ranch Steakhouse
An innovative, on-site, dry-aged process produces exceptionally tender, flavorful steaks. Starters include carpaccio; steaks range from top sirloin and rib eye to filet mignon. Prime rib, rack of lamb, Kobe meatloaf, and a nice selection of Temecula Valley wines are also offered.
11-Vino Vinyasa at South Coast Winery's GrapeSeed Spa
Yoga that focuses on the chakras (energy and aura centers including crown, intuition, throat, heart, solar plexus, navel, and tip of the spine) is orchestrated with wine tasting to create blissful "wine and unwind."
*Information is believed accurate but may be subject to change.
About Temecula Valley and the Temecula Valley Convention & Visitors Bureau
With natural gifts of climate and geography, Pu'eska Mountain, the Rainbow and Santa Margarita Gaps, Temecula Valley is widely recognized for its scenic vineyards, award-winning wines, and gracious and friendly wineries as Temecula Valley Southern California Wine Country. The popular boutique destination also includes Downtown Old Town Temecula, Pechanga Resort & Casino, and the Temecula Wine Country Golf Trail, and is home to three-time awarded California State Winery of the Year, South Coast.
The Temecula Valley Convention & Visitors Bureau (TVCVB), official regional tourism marketing organization and resource for visitors is online with complete daily Events Calendar at VisitTemeculaValley.com; Facebook, "Temecula Valley Southern California Wine Country;" Twitter,@ Visit_Temecula; and FilmTemecula.com. The Temecula Valley Visitors Center is located in Downtown Old Town Temecula (Third Street and Mercedes) adjacent the Old Town Temecula Parking Garage. For visitor information and assistance, call 888/363-2852 or 951/491-6085.