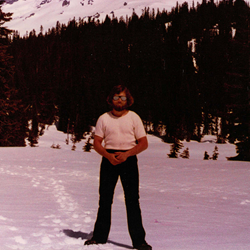 Chapman offers up a slice of Anacortes music memories that inform his new New York sound, which is well worth a listen. - Bret Lunsford, Beat Happening
Brooklyn, NY (PRWEB) April 08, 2014
anacortes is proud to announce the release of their self-titled debut LP on April 13, 2014. The album evolved around songs inspired by the life and recent death of singer/songwriter Shane Chapman's father, Sam, who graces the album's cover from the glory of the '70s, and whose birthday falls on the album's release date.
anacortes is a journey that explores the gray lines of disaster and disease, and the peace that follows the loss of expectations. Musically, for songwriter Shane Chapman, it has been an experiment to write music without any tricks to hide behind; just two guitars, a bass, and some drums. "You can play these songs on a ukulele if you want," says Chapman. "They're simple stories." Listen here.
The debut speaks to and is inspired by the albums that Chapman grew up listening to, music from the '90s Northwest grunge-scene as well as '70s artists discovered in his father's record collections. The first track on the album and unofficial single, a Great Unknown, is inspired by the quiet streets of NYC during a major snow storm. It receives radio airplay in Chapman's hometown of Anacortes, Wash., and in small towns across Alaska, very fitting considering the song's video was shot in frozen Prospect Park during a polar vortex swell with temperatures 5 to 10 below zero.
Homecoming was one of the first songs written for the project and nods to traveling back and forth to Chapman's hometown as his dad battled pancreatic cancer. All of this was set against the backdrop of Hurricane Sandy and watching a city as big and busy as NYC become involuntarily sedated and quietly unified. It Starts Again was written in one sitting in the middle of a summer night and paints a picture with the random details that stick out from childhood about our parents. For Chapman it was his dad's love/hate relationship with Lakers basketball and his passion for Steely Dan.
Other songs on the album include: Madeline, an edgy reflection on the music industry through the bluesy hue and sound of New York's dive bars, In the Movies, a riff-driven anthem, nostalgic for the '90s, and the album's finale, Microphone, which had its finishing notes written in the overdub sessions in the final days of recording. The midway point of the album is marked by Tuesday, for which the bass was recorded the day Lou Reed died, (listen carefully for the homage to Walk on the Wild Side).
Shane Chapman moved from Seattle to NYC in 2008 and spends his days working on curriculums and producing content as Director of Online Services for NYC Guitar School or writing music for fringe theater groups. Drums and percussion are played by Ricky Watts, who Chapman met at a street fair in Brooklyn. Watts is a professional drummer who has toured with national acts, and played with countless NYC bands. Woody Quinn (bass) is the lead guitarist for the national act Measure whose works are regularly featured on MTV hit shows such as Teen Mom and Catfish, as well as Pretty Little Liars and Melrose Place. Finally, Emilio Tostado, a Chicago transplant, brings his unique brand of lead guitar and unusually optimistic disposition, a welcome contrast to Chapman's sarcastic cynicism. All four members of the band teach/work at NYC Guitar School.
The album was recorded and produced by Shane Michael Rose at Seaside Lounge in October 2013, mixed at the Seaside Lounge (The National, Beirut, Neko Case) and The Buddy Project (Sufjan Stevens) in Queens, and mastered by Emmy-Nominated producer Robert L. Smith at Defy Recording (Aerosmith, Bon Jovi, Glee).
"This record was done in a quick and efficient manner, with minimal overdubs and a large emphasis on the sound, feel and vibe of the room...The result was a record that sounds smooth, punchy and dynamic with the mix and production as an element that hopefully disappears to the listener." - Producer Shane Michael Rose
anacortes, the debut album will be available on CD and through all digital and streaming outlets on April 13, 2014. For more information or to set up an interview, please contact Shane Chapman at info(at)anacortesband(dot)com.
Album Release Show: Saturday, April 12th, at The Rock Shop in Brooklyn, NY.