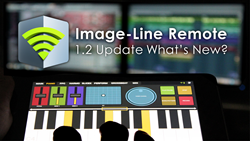 (PRWEB) April 05, 2014
Image-Line Remote 1.2 adds many new features and bug fixes reported since the app was launched in January 2014. Unlike other remote-control apps, the MIDI connection is made automatically over a Wi-Fi network without any complex setup procedures.
IL Remote is available from the following sources:
Kindle Fire - Download the IL Remote APK file direct from the site and side-load it. Log into your Image-Line account or create one to gain access.
IL REMOTE 1.2 WHATS NEW?

Trackpad pad mode - Use ILRemote as a virtual trackpad to control your computer's mouse (requires FL 11.1 or later).
Shortcut pad mode - Send any keyboard shortcut to FL Studio and Deckadance (requires FL 11.1 or later).
Breath controller - Control a parameter using the device's microphone, Edit Mode > Layout Menu > Layout Settings.
Containers - Controls can now be dragged in and out of containers.
Fonts - New font size setting for control labels.
Power management - Added a battery level indicator.
Custom scale editor - Has been moved to the layout settings, and is now usable with both the keyboard and the harmonic grid.
MIDI - Channel selection for accelerometers.
Mixer - Improved scrolling. Tap and drag to select the track range more precisely.
Fixed - Returning to the home screen even if "cancel" was pressed.
Piano - New piano roll shortcuts presets.
Bugs - Various fixes and improvements.
ABOUT IMAGE-LINE REMOTE
The App comes pre-loaded with control pages covering Transport, MIDI Keyboard, FPC control, Harmonizer Keyboard, Performance Mode (Clip Launcher), Gross Beat FX, Mixer and more. If the control a user needs isn't available, they can create their own in Edit mode.
Custom tabs and add controls can be constructed from the included Pads, Faders, Knobs, Jog Wheels, Mixer, Clip Launcher, X/Y Controls, Piano Keyboard, Harmonic Grid and Container controls. There is a complete range of customization options for each control so that any virtual MIDI controller can be customized to suit users' requirements.
EASY SETUP
Users only need to open FL Studio or Deckadance 2 on a computer connected to the same Wi-Fi network as the mobile device/s running IL Remote. After selecting "Enable Image-Line Remote" from the FL Studio or Deckadance MIDI settings, the connection is automatic. Up to 15 Android and or iOS devices can be connected simultaneously.
REQUIREMENTS
FL Studio 11.04 or higher
Deckadance 2.3 or higher
Android 3.0 or higher
iOS 5.0 or higher
ABOUT IMAGE-LINE SOFTWARE
Established in 1994, Image Line Software provides high quality music applications to the computer-based music community and is well-known for its leading digital audio workstation FL Studio (formerly FruityLoops), FL Studio Mobile for Android and iOS; high-quality synthesizers including Autogun, DirectWave, Drumaxx, Groove Machine, Harmless, Harmor, Morphine, Ogun, Poizone, Sakura, Sawer, Slicex, Sytrus and Toxic Biohazard. Innovative effect plugins including Gross Beat, Hardcore, Maximus, PitCher & Vocodex; and finally, a wide range of sample libraries used in their multi-sampler plugins DirectWave and Soundfont Player. Image-Line also produces the acclaimed DJ mixing software application Deckadance. In addition to its audio software, Image Line Software develops and distributes the web site building application, EZGenerator.
For more information, please contact:
Scott Fisher, Communications Manager
Image Line Software
E-mail: press(at)image-line(dot)com