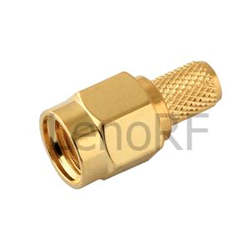 (PRWEB) April 03, 2014
Recently, LenoRF, an experienced electrical equipment factory, has proudly released its new assortment of SMA male connectors. To top it all, the company has also announced big discounts on these exclusive equipment. They are now all offered at promotional rates, up to 20% off.
LenoRF is definitely an award winning supplier when it comes to high end electrical equipment. Its products include SMA RF connectors, SMA female connectors, SMA coaxial connectors and so on. Its newly released SMA male connectors are featured with good shapes, nice performance and delicate craftsmanship.
According to a sales representative of the company, all these cheap SMA male connectors can be ordered at its website now. All customers are treated as VIP buyers. The company's new SMA products are very popular and they have significantly stimulated LenoRF's advancement in the past few years.
"We are very happy to announce our new connectors. We take pride in providing various kinds of top quality SMA products for new and old clients. Our new items specially designed to meet the huge demand in the current market. Each connector from our company is very useful. LenoRF is a pioneer in the electrical equipment industry; you can trust us," he says.
About LenoRF
LenoRF is a famous global manufacturer of coaxial connectors and cable assemblies. The company has been specializing in the industry for several years and it insists on providing effective turnkey solutions for radio frequency system. Its customers include worldwide OEMs, distributors and system integrators from various fields like broadcast, land-mobile, wireless communications, microwave market sectors and so on.
For more information, readers can visit http://www.coaxial-connector.com/product/sma-connectors-male-for-rg-58-crimping/.