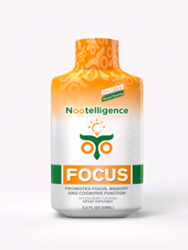 Nootelligence Focus has revolutionized the market for energy drinks and shots, as well as dietary supplements with the recent launch of a new 2-ounce "focus-enhancing shot" made with nootropics.
Fairfield, CT (PRWEB) April 04, 2014
Nootelligence Focus has revolutionized the market for energy drinks and shots, as well as dietary supplements with the recent launch of a new 2-ounce "focus-enhancing shot" made with nootropics, naturally occurring vitamins, amino acids and antioxidants that boost focus and cognition in a healthy way. Nootelligence Focus is the first product of its kind to use the so-called "cognitive enhancers" or "smart drugs", which protect the brain and improve functioning without harmful side effects. Created and co-founded by NASCAR Sprint Cup driver Parker Kligerman, Nootelligence Focus contains 13 nootropic ingredients, which benefit the brain by replenishing resources of neurotransmitters and precursors, while protecting against the effects of aging and cognitive decline. Nootropics are increasingly popular on college campuses as safe alternatives to prescription ADD/ADHD medications.
Nootelligence Focus is made with all-natural flavoring and is free of sugar, calories, carbohydrates and artificial sweeteners. The product is gluten free and contains no guarana or taurine.
The product's key ingredients, nootropics, are nutrients humans ingest through food in small doses. This includes L-Theanine, an amino acid found in tea leaves that naturally improves cognition and produces calming effects on the brain and Acetyl-L-Carnitine or ALCAR, a powerful antioxidant found in plants and animals that improves memory and focus while preventing brain cell deterioration. Another notable ingredient, Alpha GPC, is a nutrient produced and required by the brain for normal functioning, which improves memory and cognition and is used medically in Europe for treating and preventing Alzheimer's disease. Other ingredients include Green Tea Extract, Natural Caffeine extracted from green coffee beans and a mix of six different B Vitamins, among others.
According to NASCAR Driver Parker Kligerman, President and Co-Founder of Focus Now Solutions, the company behind Nootelligence Focus, "The beverage market is over saturated with energy drinks and shots that rely on questionable ingredients like taurine and guarana, and it's time to introduce healthier, innovative new products that serve a purpose other than just energy." The promising young driver explains, "Nootelligence Focus is not only the world's first focus-enhancing shot, but it is also one of the first drinks to hit the market that delivers an effective blend of nootropics specifically designed to help people focus."
The idea for the product came from Kligerman's Co-Founder and longtime friend, Ian O'Connell who, while attending Boston University, became interested in nootropics as a safe, healthy, legal way to better his brain and boost his grades. O'Connell began researching and experimenting with different nootropic supplements, which were primarily available in pill and powder form. While searching for the perfect formula for focus, O'Connell began mixing his own nootropic blends and taking them in a liquid shot form. By ingesting the formula in liquid form, O'Connell found the effects were almost immediate and would kick in on the way to class or the library. After handing out samples to friends in exchange for feedback, O'Connell was immediately surprised by the popularity of the mixtures.
"I had students asking me for a whole months supply," recalls O'Connell, CEO of Focus Now Solutions. "I think that – like most people – they assumed coffee and energy drinks and shots were the only options for a focus boost, and they just weren't aware of nootropics and how much they can help. The need for a more accessible nootropics-based product became clear, and the idea for Nootelligence Focus was born; the convenience and portability of a shot-type product seemed like the natural choice."
Back home in Connecticut, O'Connell had similar successes with friends and family, including the Kligerman family, who quickly became loyal supporters of his nootropic blends.
"My mom and brother kept asking me to get more nootropics from him," Kligerman remembers. "Once I tried them for myself and realized how great they made me feel, I recognized the huge business potential they had. Upon learning that nootropics can actually protect the brain and prevent aging, I knew that I wanted to help turn Nootelligence Focus into a reality and share the benefits of nootropics with the rest of the world."
Packaged in a portable 2-ounce bottle, Nootelligence Focus is priced at $2.99 per bottle, with discounted subscription options and discounted online pricing for cases of 4, 8, 12 and 24. Order online using promo code NOOT20 to receive an additional 20 percent off and free shipping.
For additional information on Nootelligence Focus, please visit http://www.nootelligence.com, or follow the product's pages on Facebook, Twitter, Pinterest, Google+ or Instagram. More information about nootropics, productivity, health and wellness, can be found on the company's blog or by subscribing to the Nootelligence Focus RSS feed.
**Media can kindly request images, video, additional information, or schedule an interview with a member of the team by contacting Nootelligence Focus CEO Ian O'Connell at ian@nootelligence.com.
# # #