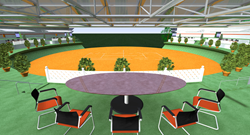 This new court has a beautiful character and personality all its own.
Petoskey, Michigan (PRWEB) April 04, 2014
RedClay USA announces their exclusive partnership with Germany's Viacor for the U.S. distribution of new proprietary red clay tennis courts. The joint venture will be the new face on the American tennis scene, helping further the attraction to European RedClay tennis and culture nationwide.
As official U.S. agent, RCUSA will oversee the immediate sales, design and installation of the revolutionary court system, RCTF. RCTF is considered the most advanced European red clay court available, mixing old-world tradition and high-tech design, nuances and materials.
RCUSA CEO Brian Osterberg states, "We're pleased our agreement gives our RedClay Tennis Initiative the privilege to be the first to import and promote what's been developed as the finest ever red clay court — already being used at professional events. This new court has a beautiful character and personality all its own."
The new RCTF court will serve as the official court for RCUSA and its RedClayClub members. The RedClay Tennis Initiative is almost two years in progress, having continuous support of the USTA.
The RCTF court materials provide what's promoted as the most aesthetically pleasing, functionally superior and consistent/standardized European red clay surface. The high-tech innovations mean it requires very little maintenance and water. American clubs and resorts can immediately present this natural surface to their members and guests as a revolutionary cultural change for sports and resort activity.
"RCUSA sees the new partnership with Viacor as key to our Sunset RedClay™ Design Program — a cornerstone for designing new installations at tennis facilities, parks and resorts. And all new installations will be invited to join the forthcoming RedClayClub.org, for local-to-global promotion and marketing. Program points cover layout, expected performance, cost of installation/upkeep/benefits, and will be centered around our innovations. All RedClayClubs, schools and resorts will benefit from a unified RCUSA industry and market strategy," adds Osterberg.
RCUSA and Viacor are investing their resources to continue the full-scale effort to seamlessly convert America's hard courts to RedClay, bringing greater growth in U.S. tennis for generations.
"Securing this partnership means we have another key to successful RedClay tennis integration in America, using the best court system now available. It gives any organization confidence in their decision to add our European RedClay tennis and culture," says Osterberg.
RCUSA invites all inquiries to be sent to: brianosterberg(at)redclayusa(dot)com.
RCUSA LLC consults clubs, organizations and resorts in adding RedClay tennis assets, mixing financial involvement from corporate sponsors and tennis benefactors.
RCUSA is the leading U.S. organization promoting the advancement of RedClay tennis in America and an authoritative voice for introducing European red clay courts as a "new" sport and lifetime cultural activity.