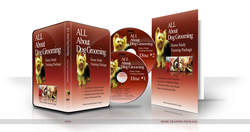 Certified pet care professionals are in high demand in the 62 billion dollar pet care industry.
Jacksonville, FL (PRWEB) April 04, 2014
Everyday "All About Dog Grooming" training course is helping dog lovers across the nation to turn their affection for animals into lucritve financial opportunities. Certified pet care professionals are in high demand in the 62 billion dollar pet care industry. A graduate can expect to earn an excellent income either as a staff employee of a grooming shop, pet shop, vet office or boarding kennel. For the serious wage earner, owning their own grooming business will be the most lucrative approach to take. Volunteering at local shelters often fills a void for a much needed service, and rewards the groomer with much satisfaction. No matter what the goal "All About Dog Grooming's" home study course makes it possible through their own low cost, DVD home study course offered for enrollment through their website, http://www.LearnToGroom.com.
"All About Dog Grooming's" training program teaches individuals how to start their own businesses on a shoestring budget and then continue to develop them into highly profitable ventures within a few weeks after completing the dog grooming course. The training of this comprehensive course includes a detailed study manual and step-by-step clipping and styling methods through the use of eight hours of instructional DVDs. Students are expected to practice on dogs for the hands-on training portion. For those who recquire a more personalized approach, they have the ability of consulting with the founder of the company at no additional cost. The unlimited one-on-one coaching sessions can quickly build self confidence in the new student. As an added bonus it is nice to know that "All About Dog Grooming's" phones are manned by the owners themselves, assuring the student will always be well taken care of. Once completed, students receive a certificate of training, which opens the doors for them to begin making an outstanding wage in this highly sought out career.
The typical dog grooming classes are taught at brick-n-mortar schools on weekly daily schedules that take a large amount of time out of the day. Very few offer night courses. It's often difficult for individuals to attend these type of schools as they must re-organize their daily job schedules, which is often impossible to do, or they must hire someone to care for their pre-schoolers if they are a stay at home parent. With "All About Dog Grooming", learning takes place in the students home, where they can study and practice during their free time. They are able to determine the speed of the course, since it can be completed at one's own pace. Highly motivated students with the most free time will be able to complete much faster than attending a typical school. For those who wish to become self employed, they will find this goal can be accomplished much quicker than they thought possible. Many graduates are able to set up home businesses where they can control their own time schedule and earnings are at the highest end. A typical groomer working alone can easily groom 5-7 dogs per day, and the average grooming rate is at $35.00 per dog.
Find out what others are learning, that working with dogs can be a very rewarding and fulfilling experience. For further information, visit http://www.LearnToGroom.com or call toll free (888)800-1027.