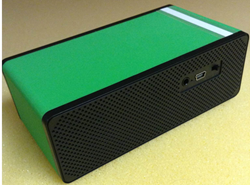 The wireless smartphone speaker system is powered with an internal lithium battery or a 5V DC USB connection
Bradley, Illinois (PRWEB) April 03, 2014
Curator of Music A Gogo - A rechargeable, wireless speaker system for smartphones sets to raise $7,500 in support for market production through crowdfunding supporters.
Music A GoGo is the latest in speaker technology for music lovers, with wireless compatibility on smartphones and MP3 players, the speaker system can play music in high volume and rich sound without the cluster of wires, cables, and even Bluetooth.
The product, which is in its final stages, has been thoroughly tested and fine-tuned. The developers are now debuting a crowdfunding campaign exclusively on Indiegogo, with the project curators hoping to raise $7,500 that will be used to produce the device for interested consumers and backers alike.
The design and functionality of this device is intentionally simple, as all the user has to do is place their smartphone or MP3 player on the Music A GoGo speaker's top. The speaker will then deploy an innovative acoustic mechanism to deliver sound that's both clear and full-bodied. No matter the setting, Music A GoGo is already set to be a great source of music entertainment as the wireless speaker system provides users with a quick "grab and go" feature set that is currently unrivalled in the market today.
Hundreds of hours spent on the development and creation of the device, with the idea initially started on paper and went through numerous design changes since its inception. Taking nearly (months) to create, the Indiegogo campaign is the device's ultimate horizon.
Project manager, Nick Robinson comments on what has been a highly anticipated campaign. "Mike and I are incredibly excited for this new venture, and we want everyone to know that our dedication is the real deal. We hope that everyone will see how passionate we are about Music A GoGo, as I'll be personally working with the factory to monitor production, quality and delivery of each and every wireless smartphone speaker system that is created."
"We were honestly apprehensive about whether their concept would work, but as we began building the device, things started to come together. Mike and I both have an understanding of speakers and electro-mechanical systems to create a reliable and quality device," states Robinson. "But after the breadboards and amplifier circuits were put in place, the device was put through several rounds of testing to arrive at a sound that is both enriching and crisp with no outside interference. It's flawless!"
The wireless smartphone speaker system is powered with an internal lithium battery or a 5V DC USB connection. The device features two operating modes - ON and OFF. It is dead simple to operate as all individuals have to do is pick up their cell phone off the Music A GoGo to take a phone call, then simply place it back on the device as music resumes instantly where it left off. Never skipping a beat!
If the Indiegogo crowdfunding campaign is successful, Music A GoGo will be available in a variety of colors, with prices starting at just $20. The creators will be offering those who choose to back the campaign on Indiegogo with exclusive prices below market value. As it stands, for the campaign to become a success and Music A GoGo to go to full marketing, the creators must secure 1,200 or more pre-orders.
This latest campaign is run by Nick Robinson - an Engineering Major who is scheduled to graduate from the Illinois Institute of Technology, Chicago in (2015). Nick's partner Mike Reeves has been developing successful projects over the past 30 years. Mike invented and patented four different products, one being marketed for over 10 years on the QVC shopping channel . He was the CEO of Comguard Inc. and Vice President of Engineering for Ameritech. The two hope that online community support will allow them to finalize the mass production and marketing plans for Music A GoGo, and upon completion of the Indiegogo campaign, they will undergo "final push" to the market and launch the products by (April 2014).
For media inquires regarding Music A GoGo and the Indiegogo campaign, individuals are encouraged to contact Project Leader, Nick Robinson at (815-550-9979) or via email at (technologyprograms(at)comcast(dot)net).
To learn more about campaign or to contribute please visit: http://www.indiegogo.com/projects/music-a-gogo/x/4129514.
Contact Information
Music A GoGo
Bradley, Illinois
(Phone) 815-550-9979