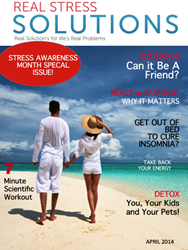 There is no much new information that is now available that could help millions eliminate their suffering.
Provo ,Utah (PRWEB) April 03, 2014
"Even though we've learned a lot about stress in the past twenty years,we've got a long way to go says Dr. Morton C. Orman, M.D., Founder and Director of The Health Resource Network (HRN). Stress Awareness Month was created and is sponsored by HRN, a national, cooperative effort to inform people about the dangers of stress,successful coping strategies, and harmful misconceptions about stress that are prevalent in our society. Stress strategist Angela Bussio agrees- which is why she is now Editor/publisher of Real Stress Solutions magazine, which will roll out a special issue this month to join the stress awareness movement.
This is the mission of Real Stress Solutions, the new monthly digital magazine fast becoming a favorite in the health and fitness category of the Itunes App store and Google Play Android store. "Every month is stress awareness month for Real Stress Solutions," says editor/publisher Angela Bussio. "There is no much new information that is now available that could help millions eliminate their suffering," says Angela, "and our goal is to create a on-demand resource with our digital magazine that entertains and empowers people with resources to take control of their lives and their stress."
The magazine is organized around the framework of identifying and giving solutions and resources for the six core causes of stress in the modern world, based on research that Bussio has done in her work as a private/ executive coach and stress strategist. Bussio is joined by contributing expert panelists made up of some of the top psychologists, psychiatrists, nutrition specialists, environmental scientists, physical therapists/physiologists and scientists and even veterinarians and pediatricians for her children and pet stress sections.
The digital format includes videos, podcasts articles and one click products and resources.
"Our hope is that the solutions we offer will help people live lives of less stress and more joy." If as Descartes said, "awareness is the cure", perhaps Stress Awareness Month is the beginning of stress solutions.
About Angela Bussio
Angela Bussio is a stress strategist, best selling author, private/executive coach, founder of Attracting Joy University and editor/publisher of Real Stress Solutions digital magazine.
Angela's program speaking offerings include, The Science of Attracting Joy. Design My Destiny and the 6 Secrets to Banish Stress. Angela resides in the heart of the Rocky Mountains with her husband of 30 years and is the mother of five beautiful children.