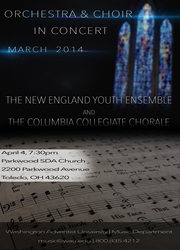 As always, it was a true pleasure to make music with you and your students, and please do give singers and orchestra my heartfelt thanks and congratulations. - John Rutter
Washington D.C. (PRWEB) April 03, 2014
The Columbia Collegiate Chorale (CCC) and the New England Youth Ensemble (NEYE) of Washington Adventist University (WAU) are pleased to announce their upcoming weekend tour to Ohio, taking place April 4-6 under the travel management of Insouciance Abroad. These world-traveled groups are known for their remarkable musical quality and interpretation and are bound to please and excite audiences throughout the region.
In a series of concerts, outlined below, the music groups will entertain and uplift audiences across the greater Toledo, Dayton and Columbus areas. Though university groups, both the CCC and the NEYE are considered semi-professional and are often engaged performing at professional levels and in world-renowned venues that exceed their young age.
Performances:
Friday - April 4 at 7:30pm - Parkwood SDA Church, Toledo, OH
Saturday - April 5 at 11:30am - Kettering SDA Church, Kettering, OH
Saturday - April 5 at 3:00pm - Kettering SDA Church, Kettering, OH
Saturday - April 5 at 7:30pm - Worthington SDA Church, Worthington, OH
Another recent tour during the school's spring break took the choir and orchestra to Florida, where once again the music department acted as the face of the university in hopes of creating interest in the in the university in southern part of the United States. By performing this short, but well prepared, weekend tour, the music department seeks to do the same in Ohio, opening the door to the Mid-West.
Washington Adventist University and Insouciance Abroad are proud to partner to bring you the world class music performed by these two groups. Having completed a four-week tour of South Africa, also managed by Insouciance Abroad, in 2012 and several domestic tours to New York, the greater Boston area, and Florida in 2013 and 2014, the orchestra and chorale bring their wonderfully varied program to Ohio.
Insouciance Abroad has spent the last eight years representing these talented groups around the world and they will not only bring an incredible level of musicianship to their performances but will do so in a way that will inspire you with their passion for great classical music.
For more information about Washington Adventist University, the Music Department, or either organization, please visit: http://www.wau.edu.
For more information about this tour, Insouciance Abroad or their customized tour services please contact Peter Lombard