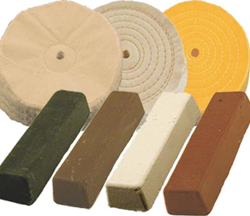 Zhengzhou, China (PRWEB) April 03, 2014
The leader from iAbrasive--an international e-commerce trading platform for abrasives industry-- presently publishes an article (http://www.iabrasive.com/articles/iabrasive-offers-three-suggestions-about-how-to-select-qualified-polishing-compounds) which talks about how to select the qualified polishing compounds.
In the article, the writer points out that three aspects should be paid attention to in the process of purchasing polishing compounds. Generally, the properties of polishing compounds will have a direct influence on the product's quality, thus the working efficiency.
> Polishing compounds performance standards
Generally speaking, foreign polishing compounds are made under a stricter standard to ensure the products are secure enough, which make the compounds particularly suitable for the applications in high precision industry. However, the price is also higher than that of China's.
> The color of polishing compounds
Polishing compounds of different colors, usually in yellow, white, green and purple, will have different usages. For instance, polishing compounds in yellow will be used for coarse grinding; white and purple for general grinding; green for accurate grinding.
> The raw material of polishing compounds
Currently, products that need to be polished on the market can be roughly divided into metal and non-metallic ones, involving stainless steel, copper, zinc alloy, acrylic, organic glass, etc. The texture of the product which is to be polished will influence the choices of polishing compounds.
To keep yourselves informed of the most professional and in-depth news about abrasives industry, you are welcome to link http://www.iabrasive.com.
About iAbrasive
Founded in 2012, and headquartered in Zhengzhou, China, iAbrasive has achieved dramatic growth in benefiting overseas abrasives buyers communicating with Chinese suppliers at anytime and anywhere. Positioning itself on the whole abrasives industry only, iAbrasive strives to be most professional abrasives trading platform and supply the best abrasives products for you. Link http://www.iabrasive.com to obtain the first news about abrasives industry.