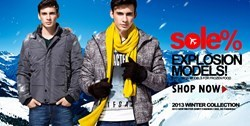 (PRWEB) April 04, 2014
Skmen.com is a leading supplier of men's and women's high quality clothes. Now, the company is busy selling its new collection of women's long sleeve T-shirts. All these handmade items are offered at discounted prices, up to 30% off.
"We are happy to announce our new designs of discounted women's long sleeve T-shirts. Nowadays, the demand for comfortable-to-wear T-shirts is very huge; that is why we decided to create our new long sleeve T-shirt assortment. For ladies who want to be trendy and unique, we have various kinds of amazing clothes. Every item offered by our company is distinctive. I think all clients will like them. Please pay attention that the special offer will be valid until April 16," the company's chief executive officer says.
Skmen.com focuses on fashionable clothes that are provided at low rates. Thus, it has been a popular supplier among worldwide ladies. Its long sleeve T-shirts are all featured with special designs, elegant looks and soft materials.
Among all its new T-shirts, the hottest items are: GZ Wholesale Fashion Special Cat Pattern Long-Sleeve T-shirt, GZ Wholesale Elegant and Comfortable Diagonal Blue and Gray Splicing Stripes Batwing Long Sleeves T- Shirt and GZ Wholesale Black and White Stripe Off Shoulder Slim Fit Long-Sleeve T-shirt.
About Skmen.com
Skmen.com, a reliable company founded in 2009, is one of the leading suppliers of men's and women's high quality clothes. It has more than 5000 customers from every part of the world; it hopes to help worldwide stylish ladies and gentlemen. For more detailed information about the company and its wonderful items, readers can visit http://www.skmen.com/product-women-s-dresses-003004.aspx.