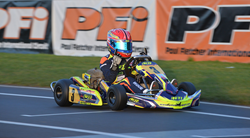 I am delighted to have backing from such a prestigious global company as Q8Oils
Leeds, UK (PRWEB UK) 3 April 2014
Tom Wood's Karting successes in 2013 included 3rd in the National Cadet kart championship, which was a very close points finish - coming down to the last race. He was 3rd place overall and highest placed Young Driver in the British Cadet Kart Championship 2013 with only a couple of points between the first three drivers, Vice GP Plate Champion in the British Kart Grand Prix, Vice O Plate Champion in the IAME Cadet O Plate. He was also Top Rookie in both Championships. Another highlight of Tom's career to date is winning the 2012 Trent Valley Kart Club Championship, which put his name on the same Trophy as his hero World Formula One Champion Lewis Hamilton. Not surprising, Tom's own ambition is to become a Formula One world champion and he will be competing around the United Kingdom in the British Cadet kart Championship, which is acknowledged as the road to Formula One.
Tom first drove a kart in 2005 and loved it immediately. At Kartmania in 2007 the new Bambino school was being launched in 2008 and he could compete in petrol karts in the next year. A second-hand Bambino kart as a Christmas present opened another chapter in Tom's karting life, and the Wood family made the first of many trips to Buckmore Park in Kent for the newly organised Bambino race meetings.
Tom contested the Bambino rounds through 2008 and 2009 – becoming the most successful Bambino racer at Buckmore, winning 12 out of 18 rounds in 2009 and being on the podium 17 times.
He then moved into MSA cadet racing, competing in five races as a novice before being allowed to have a full race licence. In these early meetings he won three first place novice trophies!
2010 saw him finish all three championships well up the order: with a 5th place at – Rissington, 6th at Shenington, 7th at Whilton Mill, and the highlight of the year – winning the most promising cadet trophy at the Shenington awards evening.
In 2011 it was time to move up to National Competition. Tom entered the Formula Kart Stars British championship racing for SAS motorsport. This was a big jump from the club meetings and he was now competing with much more experienced drivers up to five years older than him. The result? As always Tom pushed hard and finished as the highest placed young driver in the final championship standings. He also competed in the Shenington Club championship finishing in 3rd place overall, with many podium finishes. At the end of 2011 he signed for the top cadet team in the country – Fusion Motorsport and in 2012 competed in the Formula Kart Stars (FKS) championship. Still signed with Aim Motorsport Cadet Team, Tom is top seed for 2014, and the rest as they say is history.
As well as karting, Tom also enjoys a wide range of interests including cycling, swimming, football, hockey, running and music, but admits that his favouring next to Karting is watching Motorsport: especially F1, V8 Supercars and Motor GP.
Commenting on his Q8Oils sponsorship he says: "I am delighted to have backing from such a prestigious global company as Q8Oils. It is a fantastic opportunity and I would like to thank the company for its support. I am looking forward to what will be a very exciting season ahead together." He also repeats the promise he makes every season "I only race to win".