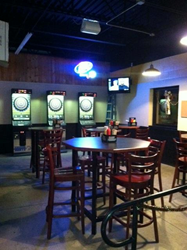 The Ladder Back Bar Stools are comfortable and functional.
Hays, KS (PRWEB) April 03, 2014
Leading restaurant furniture manufacturer and distributor Affordable Seating recently helped Golden Q Sports Bar in Hays, Kansas redesign its seating by giving it a fresh look with new restaurant furniture. Located near the campus of Fort Hayes State University, Golden Q Sports Bar and Grill is very popular with students and locals alike. The bar has many TVs for customers to enjoy sports. They broadcast all of the big games in all sports – baseball, basketball, football and NCAA college sports. They also have pool tables and darts.
Golden Q is famous for its great bar food. They offer over 20 selections of burgers. They also serve a wide range of sandwiches which includes the BLT, Chicken Cordon Bleu, Classic Club and French Dip. Appetizers include typical bar food favorites such as onion rings, nachos and curly fries and local favorites such as gizzards and breaded pickle-o's.
"As a venue that brings in a wide variety of customers and experiences heavy traffic, Golden Q was looking for bar stools that would revitalize its image," Affordable Seating sales representative David explained. "They were also looking for quality wood furniture that would fit with the bar's décor. The Ladder Back Wood Bar Stools blended in perfectly".
The owner turned to Affordable Seating because of their reputation for excellent quality and customer service. He ordered Affordable Seating's Premium Ladder Back Bar Stools in mahogany finish with solid wood seats. The Premium Ladder Back Bar Stools are made of solid wood and sell for $85 at Affordable Seating. They come in 6 standard finishes and a custom finish can be made upon request for an additional charge. Customers can choose between a padded seat which is made from American foam and vinyl or fabric or a solid wood saddle shaped seat. The padded seat can also be custom made from any material. A matching Ladder Back Chair is also available. Affordable Seating's Ladder Back Wood Chairs and Bar Stools are made in the USA. The wood used in all of Affordable Seating's furniture is responsibly sourced from the Midwest.
"The Wood Ladder Back Bar Stools were just what the owner was looking for," David said. "The Ladder Back Bar Stools are comfortable and functional, with the long-lasting durability and are reputed for their fine craftsmanship."
To view Affordable Seating's full selection of restaurant chairs, bar stools, booths, tables and patio furniture visit http://www.affordableseating.net or call a customer service representative at (888) 495-8884.
Golden Q Sports B is located at 809 Ash St. in Hays, KS. They can be contacted at: (785) 625-6913.