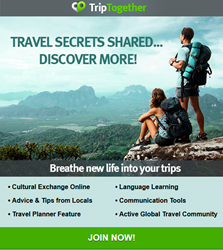 TripTogether.com is a social travel website and iPhone app designed to boost the vacation plans of members by connecting over 300,000 single travelers worldwide.
New York (PRWEB) April 05, 2014
For those looking to share vacations with a new travel mate, spring can be the perfect time to travel with someone new as destinations are cheaper, less busy and without the blistering heat of summer. TripTogether.com, the social travel website and mobile app, has made Spring travel planning even easier by uncovering the top five locations travel experts recommend to shake off the winter cold. Take advantage of the combined knowledge of their team of internet experts and avid travelers on the site with firsthand experience of these amazing destinations.
Valletta, Malta
Valletta, capital of the Mediterranean island-state of Malta, is a charming and romantic little town that's ideal to explore with a vacation partner. A March or April visit to Malta is your best bet to avoid the summer heat and beach crowds, and find out more about the island's rich history. While steering clear of the cold and damp winter weather, a Maltese spring vacation is perfect for plenty of sunshine and beautiful beaches.
El Nido, Palawan, Philippines
The Philippines is typically known for having only two seasons: wet and dry. April and May fall during the driest of months, but thanks to the soft ocean breezes of the East winds, springtime is one of the most comfortable times to visit with a travel partner to enjoy the powder white beaches, limestone cliffs, and hidden lagoons.
Cornelian Bay, Tasmania
Perhaps one of Australia's best kept secrets is the island state of Tasmania. While summer can get quite uncomfortable, the cool temperatures and fresh growth of flowers and foliage make the spring months of March and April the best time of year to discover Cornelian Bay. Spectacular scenery is great for hiking partners and nature lovers who choose to take advantage of a springtime stroll along the scenic bay.
Paris, France
Springtime in Paris, sounds cliché, but it has been given the reputation as one of the most beautiful spring locations for a reason. The spring season in Paris sees the most sunshine as well as the abundant blooming of flowers and endless gardens to explore. A timeless and evocative place, it provides an unforgettable experience to boost the chances of hitting it off with a travel companion.
Rio de Janeiro, Brazil
Spring is the absolute best time to visit Rio. The Carnival crowds have died down, but the weather is still warm enough to enjoy the world famous beaches without the mob of tourists crowding the sands. Take a leisurely hike, visit the rainforests, and discover the hidden sights you may have missed during Carnival's most colorful festival. It's the perfect place to meet with party-loving and adventurous travel companions.
About TripTogether.com
TripTogether.com is a social travel website and iPhone app designed to boost the vacation plans of members by connecting over 300,000 single travelers worldwide. Using the Live Chat feature, members can discuss planned trips, hook-up with new friends overseas, show visitors their favorite spots, and share hot tips about real places of interest. TripTogether.com uses the combined knowledge of a team of Internet experts (all avid travelers) with over 15 years of experience to give their members the most valuable vacation planning advice. All profiles are verified by TripTogether.com staff, ensuring authentic interaction between members looking for the perfect travel companion.