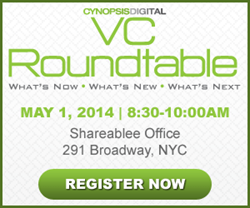 New York, NY (PRWEB) April 04, 2014
Cynopsis Digital will host a networking breakfast event on May 1 timed to the Digital NewFronts at the Shareablee Office in New York City. The topics will revolve around what venture capitalists look for when investing, how the state of digital is transforming, and upcoming trends to pay attention to.
The panel will be moderated by Andrew Nusca, Senior Editor for FORTUNE, and speakers will include prominent VC's such as Kiran Hebbar, General Partner for Valhalla Partners; Rick Heitzmann, Managing Director for FirstMark Capital; Alex Iskold, Managing Director for Techstars; and Joy Marcus, CEO for Bloglovin and Venture Partner for Gotham Ventures.
"Because the digital marketplace is a relatively new one with so much change occurring on an almost daily basis, we at Cynopsis thought this was a critical moment to have investors share their views on this changing landscape, as well as the risks and rewards that come with it," said Cynopsis Editorial Director Roberta Caploe.
The breakfast event will be held at the Shareablee Office in TriBeCa New York City and will feature a lively discussion of opinions, ideas and innovation, plus opportunities for networking. (For details, go to http://www.cynopsis.com/event/cynopsis-digital-vc-roundtable/.)
For questions regarding attending the event, contact Peter Romas at pete(at)cynopsis(dot)com or visit the event webpage. For sponsorship information, contact Vice President of Sales and Marketing, Mike Farina at mike(at)cynopsis(dot)com.
About Cynopsis Media
Cynopsis Media is a division of Access Intelligence LLC. The Cynopsis Media family of products includes Cynopsis, Cynopsis: Digital and Cynopsis: Sports daily e-publications, weekly Cynopsis: Kids and Cynopsis: Classified Advantage e-publications, Special eReports, Event/Summits and a strong database of Classifieds and more. Visit the new & improved cynopsis.com.