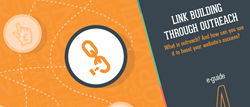 The 'post and pray' approach to link building no longer works. If you want to get people to link to your website, you must bring something new to the table.
Cheshire, United Kingdom (PRWEB UK) 5 April 2014
Award-winning digital marketing agency Click Consult has released an eguide, which advises online companies across all sectors on how to build a strong online presence and drive more traffic to their websites through outreach initiatives.
Link Building Through Outreach reflects upon the defunct, black-hat link building techniques that once helped webmasters to climb to the top of Google's search engine results pages (SERPs) and offers a knowledgeable insight on how to earn high-quality links the organic way.
Utilising the expert tips outlined in the guide will help website owners to move their sites closer to the coveted number one spot on SERPs and avoid being stung by Google's ubiquitous algorithms.
The guide also provides an in-depth explanation on what outreach is and how various forms of content distribution and incentives such as guest blogging, social media, content and competitions can build organic links and, ultimately, drive more traffic and revenue to websites in an ethical, Google-approved way.
Based in the north west of England, Click Consult have over ten years' experience in providing premium digital marketing services to their clients and are committed to utilising organic digital marketing initiatives to drive relevant leads to their client's websites.
Click Consult's founder and CEO, Matt Bullas says: "Google's guidelines on the subject of ethical content creation and link building are clear: the 'post and pray' approach to link building no longer works. If you want to get people to link to your website, you must bring something new to the table with compelling content that outshines that of your competitors."
"Following this, it's important to promote your content on relevant channels where publishers will want to publish it and readers will want to share it," continues Bullas. "This is a service we specialise in here at Click Consult."
"In recent weeks, we've grown our skilled team of digital marketers to encompass a dedicated outreach team, who work closely with our copywriters to craft high quality content for our clients and strategically distribute it across relevant channels."
You can download your free copy of the 'Link Building Through Outreach' guide by following this link: http://www.click.co.uk/resources/ebooks/download-outreach-pdf/.
For more information about Click Consult and the services they offer, visit http://www.click.co.uk or call 0845 205 0292.
About Click Consult:
Located in North West England, Click Consult is one of the UK's leading digital marketing agencies. With over 60 professionals employed and with a portfolio of 125 clients from across the UK, Click Consult works with businesses looking for a tangible, measurable return on investment in digital marketing.
Search marketing is at the heart of Click Consult's offering, but they also provide a range of other web services, including content management, conversion rate optimisation and social media. Click Consult is a Google AdWords and Microsoft adExcellence certified company.
Contact Click Consult:
Andrew Smith
Click Consult®,
Unit B1, Willow House,
Oaklands Office Park,
Hooton Road, Hooton,
Cheshire,
CH66 7NZ
Tel: 0845 205 0292
Email: pr(at)clickconsult(dot)com