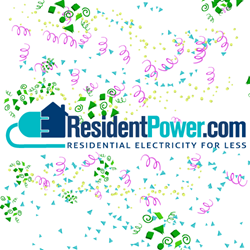 The new contract reviewing process allows Resident Power to share our expertise with customers and aid in creating a well-educated market. We truly want to help residents gain trust in a brand new market. - Megan McLaughlin
Manchester, NH (PRWEB) April 04, 2014
Resident Power, New Hampshire's first electricity aggregator celebrates their 3rd birthday this week. In the Spring of 2011, Resident Power burst into the New Hampshire scene offering residents and small businesses their first ever alternative to PSNH and other utilities. Since then the company has grown to over 15,000 customers.
As part of their third birthday celebration, Resident Power has launched three brand new websites, and peppy new brand colors. All of the websites were designed with the customer in mind, with a special focus on usability, and easy to find information.
The market place has certainly grown since Resident Power first launched in 2011. New Hampshire Residents can now choose between multiple independent electricity suppliers. Resident Power has helped to shape and grow the consumer electricity market in the past three years, while saving customers hundreds of thousands of dollars on their energy costs, and continues to serve as a customer advocate and source of information. Resident Power now offers a contract review service, in which they will review and answer questions for customers looking into competitive suppliers, for free.
Megan McLaughlin, Director of Customer Relations at Resident Power, is very excited about the new service. "The new contract reviewing process allows Resident Power to share our expertise with customers and aid in creating a well-educated market. We truly want to help residents gain trust in a brand new market with terms and conditions that have a reputation of being a bit confusing."
Resident Power has also expanded their local outreach efforts over the past years. Some of those activities include sponsoring youth soccer teams at both the Manchester Junior Soccer League West, and the Bedford Athletic Club. Resident Power is also sponsoring a million word challenge at Gossler Park Elementary School in Manchester, NH, a program that helps kids get excited about reading.
Resident Power is a member of the Manchester, NH based Freedom Energy Logistics (felpower.com) family of companies. The company's management team has nearly 100 years of energy market experience and is widely recognized for its market intelligence and informational transparency.