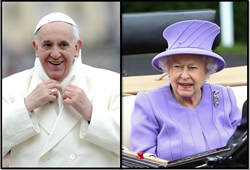 Two of the popes the Queen has met are to be canonized saints this month.
Rome, Italy (PRWEB) April 04, 2014
Today's meeting with Pope Francis won't be the first time Queen Elizabeth II has met a Roman Pontiff. In more than 60 years as Queen of England, the queen has met with five popes, two of whom will soon be canonized by the Roman Catholic Church this month.
According to those at Vatican Radio, it is thought that this will be "the 7th time she's met a pope and the 5th different pope she'll have met."
Tekton Ministries, a Catholic pilgrimage provider that organizes trips to England, Scotland and Ireland, among other places, thanks Queen Elizabeth for her openness to Ecumenism and the good that can been accomplished between England and the Vatican.
For more information about Tekton Ministries, visit their website at http://www.tektonministries.org.