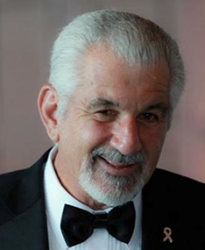 Marietta, GA (PRWEB) April 04, 2014
InfoMart, a national background check company, has named current CEO Charles Esposito as its new chairman. "Chip is an extraordinary leader at InfoMart and a preeminent expert in the security industry. As InfoMart celebrates its 25th anniversary, we are fortunate to have him continue his legacy of excellence," said Tammy Cohen, founder and president of InfoMart.
Esposito has more than 30 years' experience in the security industry, and an extensive background in sales, marketing, management, strategic alliances and acquisitions. During his 20-year tenure at ADT, Esposito was responsible for business development and management of several national accounts.
At InfoMart, Esposito has served as general manager, chief operating officer, and was most recently seated as CEO. In his role as CEO, he utilized his extensive industry knowledge and sales expertise to help InfoMart further position itself as a leader in the background screening industry. He is responsible for bringing several national accounts to InfoMart, developing strategic alliances, as well as nurturing relationships with key clients.
"I am excited to play a leadership role in taking the company into a new chapter," said Esposito. "I am honored by our founder's faith in my governance and plan to build on our past successes to create an even more successful future."
Mr. Esposito has been an active member of the American Society for Industrial Security (ASIS), the National Retail Federation (NRF), and the National Food Service Security Council (NFSSC). In addition to his professional accomplishments, Mr. Esposito is a vocal advocate for breast cancer research and serves on the board of the North Georgia Oncology Center.
About InfoMart
Founded in 1989, InfoMart is one of the nation's premier consumer reporting agencies, providing criminal history information, credit and driving records, drug screening, and verification interviews of past employers and educational institutions for companies nationwide. Accredited by the National Association of Professional Background Screeners (NAPBS) and recognized on both Security Magazine's Security 500 and Workforce Magazine's Hot List, the company prides itself on its dedication to customer service, technology solutions and accurate information reporting. For more information about InfoMart and its innovative employee programs, please visit http://www.infomart-usa.com or call (770) 984-2727.