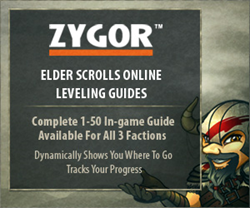 (PRWEB) April 03, 2014
Zygor's Elder Scrolls Online Leveling Guide is finally released and ESO players couldn't be happier. The game itself has been live for a few days now and many have found it difficult to level up and keep up with the quests. Zygor's ESO Guide exactly addresses this by providing in-game assistance telling players exactly what quests are important and what the best ways of accomplishing them are.
The Zygor ESO Leveling Guide is an in-game add-on that displays a small directional arrow on the player's screen. Underneath the arrow is a quest tracker, displaying details about the next task. Players are able to easily switch between quests and the arrow along with the instructions will update accordingly to the selected quest. Check out this detailed Zygor's ESO guide review to learn more about how this works and how easy it is to level up using this add-on.
Most of the quests in The Elder Scrolls Online have multiple routes to the objectives and Zygor's Elder Scrolls Online walkthrough will actually calculate the quickest route to the quest area. This allows players to cut their time spent leveling in half, just by using these accelerated routes.
Overall the Zygor's guide is split into three parts, one for each of the three factions in Elder Scrolls Online. Since each faction has completely unique leveling area, players can pick up the guide dedicated for their faction to vastly improve their leveling experience and reduce the time spent to hit level 50 cap.
Visit Elder Scrolls Online Guide for more information and detailed review of Zygor's ESO guide as well as other latest ESO guides covering Elder Scrolls Online Classes, Factions, Dungeons and Crafting.