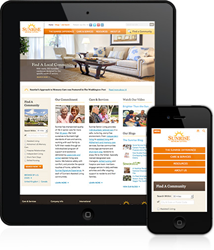 Sunrise is a perfect case study for responsive web design because the site must appeal to two distinct audiences
Philadelphia, PA (PRWEB) April 07, 2014
Manayunk-based digital agency Delphic Digital has received the Sitecore Site of the Year Award for Best Mobile Solution. As the Interactive Agency of Record for Sunrise Senior Living, Delphic Digital provides full-service digital marketing efforts, which, in 2013, included a website overhaul and relaunch in responsive design to create a more senior-friendly web experience.
Delphic leveraged Sitecore as the platform best positioned to execute the client's wish list of geotargeting visitors and providing support for nearly 300 individual Sunrise Senior Living community pages. Custom Sitecore enhancements allowed each community to seamlessly upload dynamic content to provide a more personalized web experiences for visitors seeking information about a Sunrise location in a specific region.
"Sunrise is a perfect case study for responsive web design because the site must appeal to two distinct audiences — the potential or current senior resident as well as the decision maker, who is most likely an adult child," said Lance Hollander, Delphic Digital's Managing Partner. "These visitors often have very different comfort and confidence thresholds with using various Internet-connected devices and even navigating the web."
In addition to the national award recognition from Sitecore, the Sunrise Senior Living website relaunch resulted in a 17% increase in pages per visit and an 11% decrease in bounce rate. The data show that the decision to use responsive design technology drove a richer user experience that allowed readers to find what they were looking for and engage more deeply with the website content.
"Responsive design and Sitecore created a winning combination that allowed us to build a powerful solution for both seniors and the adult children involved in this important stage of their parents' life," said Hollander.
In 2012, Delphic also received a Sitecore MVP award (one of 41 worldwide) as well as the Sitecore Site of the Year Award for its work on the Borgata Hotel Casino & Spa website relaunch.
For more information, contact Delphic 215-508-1800 or visit http://www.delphicdigital.com.
About Delphic Digital
Delphic is a Sitecore Certified Partner headquartered in Philadelphia. Partnering with clients, Delphic formulates digital strategies that build, market and optimize the digital experience. Delphic solutions uniquely leverage technology and data to drive agile marketing and create breakthrough user behavior. Insights from this approach deliver on bottom line results. Clients include leading brands such as Borgata Hotel Casino & Spa, British Telecom, Comcast, Johns Hopkins Medicine, Sunrise Senior Living, KwikTek and Rio Brands. Visit DelphicDigital.com.