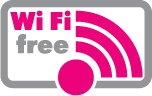 (PRWEB UK) 3 April 2014
Free WiFi is coming to 17 key stations on the First Capital Connect (FCC) rail network as part of a £2 million-plus investment the company is making in service improvements over the next six months to mark its eighth anniversary.
WiFi will be rolled out starting this summer at the following FCC-managed stations:

Bedford
Blackfriars
City Thameslink
Elephant & Castle
Elstree & Borehamwood
Finsbury Park
Harpenden
Hertford North
Hitchin
Huntingdon
Luton
Luton Airport Parkway
St Albans
St Pancras International
Stevenage
Welwyn Garden City
West Hampstead
FCC Managing Director David Statham said:
"This is all about giving people better value for money. Free WiFi at our key stations turns downtime into productive time for our busy passengers giving fast access to the entire net and features such as our mobile website and new mobile ticketing app.
"This £2 million-plus investment will also give passengers cleaner trains, improved customer assistance, further measures to prevent graffiti and improvements to stations along the route.
"It builds on what we have already delivered over the past eight years of our franchise: almost 30,000 extra seats at our busiest times of the day, new stations at St Pancras, Blackfriars, King's Cross, Farringdon and West Hampstead, better stations, new or upgraded trains and a 36% reduction in crime."
Other ongoing improvements funded by the £2 million-plus investment over the next six months includes:

extra cleaners on trains, more customer service training for staff
a rainbow board system on the FCC website to see the state of services at a glance
extra trains leased from other operators to cover for essential heavy maintenance work
station improvements:
o refurbishing subways at Elephant & Castle and Hertford North
o replacing canopies at Gordon Hill
o introducing lifts at Hitchin, Hatfield, Letchworth, Elstree & Borehamwood and Stevenage
o resurfacing the car park at Bedford
o refurbishing King's Lynn station
ends
Notes to editors
Passengers will have to sign up just once to enjoy the free service at the 17 key stations on the Thameslink network.
About First Capital Connect
First Capital Connect (FCC) operates trains from London to Bedford, Brighton, Wimbledon and Sutton on the Thameslink route and Peterborough, Cambridge and King's Lynn on the Great Northern route.
Approximately 180,000 people travel with FCC every weekday – 95,000 on the Thameslink route and 85,000 on the Great Northern route.