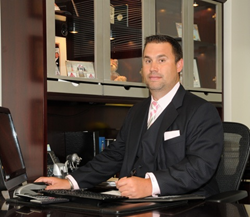 While earning these impressive credentials is by no means easy, it is what differentiates Everest advisors from those of other firms.
Towson, MD (PRWEB) April 04, 2014
The Chartered Financial Consultant® (ChFC®) designation has been a mark of excellence for almost thirty years and currently requires the most of any financial planning credential. As financial planning's highest standard, the ChFC® program prepares professionals to meet the advanced financial needs of individuals, professionals, and small-business owners. ChFCs can identify and establish specific goals and then formulate, implement, and monitor a comprehensive plan to achieve those goals. Individuals who earn a ChFC® can provide expert advice on a broad range of financial topics including financial planning, wealth accumulation and estate planning, income taxation, life and health insurance, business taxation and planning, investments, and retirement planning.
As a Chartered Financial Consultant®, Philip has completed the most extensive educational program required for any financial services credential. Each ChFC® takes eight or more college-level courses on all aspects of financial planning from The American College, a non-profit educator with the highest level of academic accreditation. The average study time study for the program is over 400 hours, and advisors frequently spend years earning this coveted distinction. Each ChFC® must also complete a minimum of 30 hours of continuing education every two years, adhere to strict ethical standards, and must meet extensive experience requirements to ensure that you get the professional financial advice you need.
The CIMA® certification, delivered by Investment Management Consultants Association® (IMCA®), is the only credential designed specifically for investment advisors and consultants. CIMA® certified advisors apply investment theory and integrate a complex body of investment knowledge systematically and ethically to assist clients in making prudent investment decisions. The certification identifies individuals who have met extensive experience and ethical requirements and successfully completed advanced investment management consulting coursework provided through The Wharton School, University of Pennsylvania. CIMA® professionals must pass a rigorous examination covering a wide range of in-depth investment topics. Additionally, those who earn the certification must agree to meet ongoing continuing education requirements, and adhere to IMCA's Code of Professional Responsibility, and Standards of Practice.
CIMA® certification is the only financial services credential accredited by the American National Standards Institute. "The CIMA certification program maintains the high standards we've developed over the years by continuing to focus on the 'Four Es' – experience, education, examination, and ethics," said Sean R. Walters, CAE, executive director and CEO of IMCA. "As a result, CIMA certification has become the new standard for investment advice in financial services." IMCA was established in 1985 to set the standards and practices for the investment management consulting profession and provide investment consultants with the credentials and tools required to best serve their clients. For more information about IMCA or the CIMA certification, visit http://www.IMCA.org.
Lastly, as a Retirement Income Certified Professional® (RICP®), Philip is adept in the new and evolving retirement income planning field. The RICP® is an advanced designation that makes sure that advisors understand how to structure effective retirement income plans that help mitigate risk, and create substantial streams of income to last throughout their clients' retirement years. Unlike advisors who take a limited approach to retirement planning, Philip is an advanced financial professional trained in practical, comprehensive, and current retirement income techniques. While earning these impressive credentials is by no means easy, it is what differentiates Everest advisors from those of other firms.
Everest Wealth Management, Inc. specializes in protecting their clients' money and income in retirement. Everest offers a variety of insurance solutions and annuities covering a broad spectrum of asset classes and strategies which are used to create a portfolio to fit their clients' goals and risk tolerance. Everest's commitment to annuity knowledge and superior client service truly sets them apart from the rest. For more information, visit http://www.EverestWM.com.