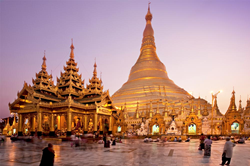 London (PRWEB UK) 4 April 2014
Shell, Statoil and Chevron are amongst the candidates selected by the Ministry of Energy Myanmar to begin exploration activity in Myanmar's offshore blocks
In an announcement made by the MOGE dated 26/03/14 titled 'selected candidates and related Blocks for Myanmar Offshore Blocks Bidding Round – 2013' details of all the companies awarded offshore exploration rights were released.
The potential for oil and gas exploration in Myanmar has been of high interest since the Military rule in the country came to an end (1962-2011). With a large number of offshore blocks available there was intense interest and competition in the application phase. The announcement made available on the Ministry's website lists all the companies that have been awarded exploration rights. The blocks up for auction consisted of 10 shallow water blocks and 10 deep water blocks.
Royal Dutch Shell, Total E&P, Statoil and Conoco Phillips were among those awarded deep water blocks whilst Australia's Woodside Energy, ROC Oil and Transcontinental won the rights to explore in shallow water blocks.
Those companies that have been awarded deepwater blocks will be able to operate on their own but those who have acquired shallow water blocks will be required to operate with a local partner. This decision is down to the technological expertise of the larger companies such as Shell, Total and Statoil as they are able to operate in deepwater conditions. Those given the rights to explore in the shallow water blocks must enter a PSC (Production Sharing Contract) to incorporate companies based in Myanmar.
What can be taken from this is promising; the companies awarded blocks in both deepwater and shallow water all have a proven track record and are multinational household names. This bodes well for Myanmar and it's future investment prospects.
It is important to mention that Indian company Reliance Industries Ltd won exploration rights along with Oil India Ltd. This is a further indicator of the high levels of interest that surround Myanmar. Countries like China, Thailand, India, Japan and Bangladesh are all looking towards Myanmar for energy security and business opportunities in the energy sector.
On the 23rd & 24th of June 2014 oil and gas executives will meet for the 4th Myanmar Oil & Gas Summit in Yangon. The event will take place over two days and is the largest of its kind to take place in Myanmar. The programme will be full of up to date presentation on new seismic information as well as further details on PSC's (production sharing contracts) as well as project financing.
For more information please contact E(dot)mcdonaugh(at)oliverkinross(dot)com
(END)
NOTES TO THE EDITOR
The 4th Myanmar Oil & Gas Exhibition, 23rd & 24th June 2014, Yangon
The Summit is organised by Oliver Kinross – http://www.oliver-kinross.com
For all media and press enquiries please contact Eoghan McDonaugh e.mcdonaugh(at)oliverkinross(dot)com
Block results – http://www.energy.gov.mm