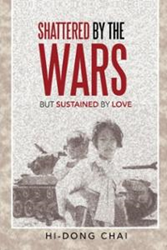 I have yearned for peace in the world since my childhood.
San Jose, Calif. (PRWEB) April 03, 2014
In his new book, "Shattered by the Wars," Hi-Dong Chai of Seoul, Korea illustrates his family's struggle to survive through WWII and The Korean War.
His father, a Christian minister, was imprisoned by Japanese police during WWII (1941-1945). His elder brother volunteered to join the Japanese army to have his father released from the prison. He left home for Japan as a vibrant 15-year old boy, and after the war he returned home as an injured 18 old man. He died a year later from his injury. During the early years of South Korea, Chai's oldest brother joined the Communist movement and was imprisoned. Then during the Korean War (1950-1953), when the Communist occupied Seoul, they took his father away, never to return.
As refugees in the south during the Korean War, Chai and his mother struggled to survive. Then Chai's mother found a way to send him to the United States. Chai came to the U.S. at the age sixteen, struggled to support himself through school, obtained a PhD in electrical engineering, worked for IBM and San Jose University.
He seeks to share the story of his mother, who through the trials and tribulations that the wars presented, led her family with love and grace. Chai views her as the heroine in the story of his life, as she continued to love her family through sacrifice and suffering.
Chai is grateful for the opportunities available in America and encourages other Americans to appreciate the diversity, willingness to change and openness to different cultures that it embodies. He does not however, view the Japanese or North Koreans as evil. Rather, he asserts that it is war and power-hungry leaders that bring out the evil in members of a country.
"I consider 'Shattered by the Wars' to be the most important work of my life because it has been most dear to my heart, [which] has yearned for peace in the world since my childhood," Chai said.
Readers will follow him through a heart-wrenching, unforgettable story of faith, love and sacrifice.
"Shattered by the Wars"
By: Hi-Dong Chai
ISBN: 978-1-4624-0796-5
Available at Amazon, Barnes and Noble and Inspiring Voices online bookstores.
About the author
Hi-Dong Chai was born in Seoul, Korea, and was educated in the U.S. with a Ph.D. in electrical engineering. He worked for IBM for 19 years. He later became a professor of electrical engineering at San Jose State University and retired in 2002. During his professional career, he published 40 technical papers and invented or co-invented 49 inventions. He currently resides in San Jose, Calif. with his wife, where he devotes his time to writing, playing golf and singing.