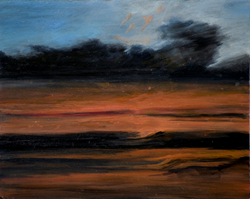 To see clearly is poetry, prophecy and religion, all in one. - John Ruskin, Victorian Art Critic
(PRWEB) April 05, 2014
Perhaps you've been to a museum or art gallery lately. Perhaps you saw the art as it was displayed, but did you truly see the art – in a way that moves you to thought, reflection and conversation. With this goal in mind, Art & History Museums – Maitland is proud to be a host venue for Slow Art Day on April 12, 2014.
An annual event, Slow Art Day encourages people all over the world visit local museums and galleries to look at art slowly. Participants look at five works of art for 10 minutes each and then meet together over lunch to talk about their experience.
At the A&H, the day will be celebrated at A&H – Maitland Art Center. Carla Poindexter, Associate Professor of Art at UCF, will conduct a tour of our two traveling exhibitions, Film Works, by Nancy Cervenka and Moving Pictures, by Joyce Ely Walker. The tour will take place from 11am -1pm and will be followed by a brown bag lunch and conversation from 1pm-2pm in the A&H Main Garden.
The event is free to attend (lunch is not provided), but reservations are required. To register, visit artandhistory.org/calendar and follow the Slow Art Day link.
###