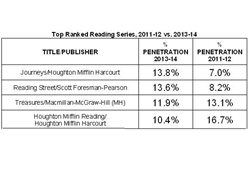 Stamford, CT (PRWEB) April 15, 2014
"The Complete K-12 Report: 2014" contains thoroughly updated and expanded market intelligence, based on EMR's own proprietary survey research in K-12 Market Size & Structure, Market Size for Textbooks & Supplemental Materials, Market Size and Growth Rates for Digital Products and Services, The Reading Market, The Mathematics Market, The Effects Of Common Core State Standards, Public School Enrollments & Funding, and much more!
All sixteen chapters are updated, of course, with most of them 100% updated, and one of them brand new to this year's edition.
Along with this extraordinarily broad market coverage, the new report has a strong focus on Publisher Market Shares by curriculum area, at present, and dating back at least ten years.
MARKET SHARES IN READING, BY PUBLISHER:
Since two of the top four textbook publishers, Houghton Mifflin and Harcourt, combined into a single company, HMH has dominated the Reading segment. This combined publishing entity in 2013-14 has nine programs among the top twenty-two and an impressive combined market penetration of 47.6% (down from 50.9% two years ago). McGraw-Hill follows Houghton Mifflin Harcourt with six programs among the top twenty-two and combined market penetration of 26.2% (down from 29.3% two years ago). Pearson follows with four programs among the top twenty-two and combined market penetration of 21.3% (up from 12.6% two years ago).
MARKET SHARES IN MATHEMATICS, BY PUBLISHER:
Rankings by Publisher - Grades 3-5
Houghton Mifflin Harcourt, under the Great Source and Houghton Mifflin Harcourt imprints, ranks first in the grades 3-5 Mathematics segment in 2013, with six titles among the top twelve and a combined market penetration of 36.5%, compared to 29.2% in 2011.
Pearson, with the Scott Foresman imprint, is second to Houghton Mifflin Harcourt, with two titles among the top twelve (including the market leading title) and a combined penetration of 27.2%, compared to 30.5% in 2011.
McGraw-Hill, with the Everyday Learning, Glencoe, and McGraw-Hill imprints, ranks third with three titles among the top twelve and a penetration of 21.8%, compared to 26.1% in 2011.
Analysis by Series
In grades 3-5 the biggest gainers on a percentage basis, compared to EMR's 2011, survey are Math Expressions (+9.1%), Envision Math (+8.0%), and Math Connects (+5.5%). Go Math was a new addition to the list of top titles.
Changes Compared to 2011 Survey Results
The net result seems to be that the combined Houghton Mifflin Harcourt has been able to stay at or near the top at all levels of Math instruction, but it is not as dominant as it was due to the strong gains recently made by Pearson. In fact, Pearson is now the leading Math publisher in grades K-2, 6-8, and 9-12.
Today's school market has evolved and expanded. Thus it is necessary to go beyond the "old stand-by" sources in order to get an accurate picture of today's dynamic K-12 school market, and that is precisely what this report does. The powerhouse combination of noted researchers and analysts, headed by Dr. Robert M. Resnick, founder of Education Market Research, makes an all-star team capable of delivering a report with incomparable depth and breadth of intelligence, insight, and analysis.
About Simba Information
Simba Information is widely recognized as the leading authority for market intelligence in the media and publishing industry. Simba's extensive information network delivers top quality, independent perspective on the people, events and alliances shaping the media and information industry. Simba publishes newsletters and research reports that provide key decision-makers at more than 15,000 client companies around the globe with timely news, analysis, exclusive statistics and proprietary industry forecasts. For more information, please visit http://www.simbainformation.com or call 888-29-SIMBA.