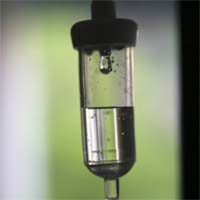 Low-dose, prolonged gemcitabine infusion...has acceptable toxicity and high efficacy with improved quality of life.
Raleigh, NC (PRWEB) April 10, 2014
Scientists in the Thoracic Oncology Unit at Mexico's National Cancer Institute say continuous infusions of low-dose Gemzar (gemcitabine) with cisplatin appear to be a safe and effective alternative to standard mesothelioma chemotherapy. Click here to read about the new study on the Surviving Mesothelioma website.
Researchers evaluated the outcomes of 39 patients with advanced malignant pleural mesothelioma who received low-dose Gemzar instead of the more expensive standard treatment of Alimta and cisplatin. Not only did the drug improve survival with few serious side effects, but it also improved many patients' quality of life.
"The functional, physical and emotional roles and dyspnea [shortness of breath], insomnia and pain symptom scales improved," reports the study's lead author, Dr. Oscar Arrieta, head of the Experimental Oncology Laboratory at the National Cancer Institute of Mexico.
The phase II study, published in Cancer Chemotherapy and Pharmacology, found that more than half of mesothelioma patients treated with Gemzar had a response to the treatment and a third had stabilized mesothelioma. Median survival on the lose-dose Gemzar regimen was more than 20 months.
"The reality is that the standard chemotherapy drugs may not be an option for every mesothelioma patient," says Alex Strauss, Managing Editor of Surviving Mesothelioma. "This study is encouraging in that it suggests there may be another effective and more affordable option."
For more details on the low-dose Gemzar study, including more results and the most common side effects in mesothelioma patients, see Low-Dose Gemzar: Cost Effective Alternative for Mesothelioma?, available now on the Surviving Mesothelioma website.
Arrieta, O et al, "A phase II trial of prolonged, continuous infusion of low-dose gemcitabine plus cisplatin in patients with advanced malignant pleural mesothelioma", April 1, 2014, Cancer Chemotherapy and Pharmacology, April 2014, Epub ahead of print, http://www.ncbi.nlm.nih.gov/pubmed/24687408
For nearly ten years, Surviving Mesothelioma has brought readers the most important and ground-breaking news on the causes, diagnosis and treatment of mesothelioma. All Surviving Mesothelioma news is gathered and reported directly from the peer-reviewed medical literature. Written for patients and their loved ones, Surviving Mesothelioma news helps families make more informed decisions.