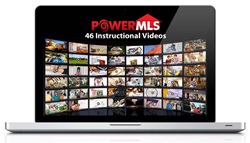 Issues do arise in every real estate transaction and that's why it's important that Sellers watch these videos
Denver, CO (PRWEB) April 05, 2014
PowerMLS.com For Sale By Owner launched its For Sale By Owner website, which features the PowerMLS video library, 46 instructional videos, over 12 hours, on how to sell your own home. The videos are written and presented by top-producing real estate agents and are organized into a home selling system.
"Wouldn't it be nice if a top-producing real estate agent would sit down with you and teach you how to sell your home and not charge you a commission. That dream is now a reality with PowerMLS.com," says CEO and founder Allan Robinson.
All of PowerMLS's videos are written and presented by top-selling Realtors with at least 10 years of full-time, real estate experience.
Why should homeowners watch these videos? "Issues do arise in every real estate transaction and that's why it's important that sellers watch these videos," says Allan Robinson. Here are some of the most common issues seen in the typical real estate transaction.
1. A buyer wants the sellers to take their home off the market for 6 months while he tries to sell his home. What should the sellers do?
2. A buyer asked the sellers if they would take $30,000 less than their asking price. How should the sellers respond?
3. A seller has received multiple offers on his property. Is there any way he can leverage these buyers against one another?
4. A buyer just completed their inspection and there are $15,000 in repairs that are needed. However, the seller's house is practically new. What should the seller do?
5. How does a seller find out if a buyer is qualified to purchase a home?
6. A seller has found a buyer for his home. The buyer has a stable job and makes a decent salary. However, he doesn't have enough money for his down payment and his mortgage closing costs. Is there any way the seller can pay the buyer's closing costs?
The PowerMLS Video Library teaches sellers how to handle each of these situations, plus hundreds more, in a professional, low-cost manner.
All of PowerMLS's For Sale By Owner packages include their MLS Home Pricing Report which contains the latest active, under contract and sold listings, including pictures, direct from the local MLS. This is the same data that appraisers use.
Also, all of their For Sale By Owner packages include full MLS and Realtor.com advertising and national syndication on top real estate websites such as Zillow, Homes.com and Trulia.com.
From the PowerMLS website, buyers can download blank contracts and disclosures that the seller uploads. PowerMLS also offers a offers a money-back guarantee.
Their packages start at $399 including their $100 off promotion.
For more information on PowerMLS, visit their website at: http://www.powermls.com or give them a call at (800) 639-6044.
Members of the press can receive a free account with unrestricted access to their entire video library for review purposes. Please contact Allan Robinson at (303) 223-9507 option 3.