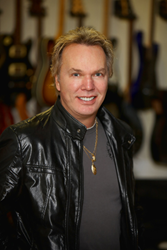 I envisioned a people-and service-orientated company that can turn on a dime and respond to our customers' needs.
Delta, BC (PRWEB) April 30, 2014
#014 - Dave Dunwoodie from Graph Tech Guitar Labs
Hi AaA fans. Here's the Amps & Axes - #014 - podcast Dave Dunwoodie from Graph Tech Guitar Labs latest episode of the Amps and Axes Podcast. The guys start out with Jeff talking about a pretty cool new guitar and how he used it to open the set during the world premier of Johnny Chill, the new project from the mind of John Palumbo of Crack The Sky fame. Then they interview Dave Dunwoodie, founder and president of Graph Tech. Dave is a great guy who has been in the industry for many decades and not only tells us about the cool products his company offers, but the stories behind their development. It's a great listen, so enjoy!