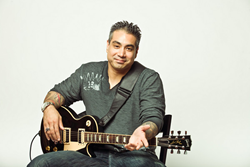 Fort Lauderdale, FL (PRWEB) April 03, 2014
Dyce Kimura, an esteemed guitar teacher, has been working in and around the area of Fort Lauderdale and Hollywood, Florida for a long time, and has decided to thank the community. He has always been grateful for the community's supportive response and says that many of his best students have been local. For this reason, Dyce is launching a new promotion for his Fort Lauderdale guitar lessons.
Any student who comes to Dyce Kimura from the Hollywood area will receive 50% off his or her first lesson. Dyce understands the hesitation potential guitar students have towards beginning lessons. It can be a challenging endeavor with a process that requires commitment and determination. "I remember my first Fort Lauderdale guitar lesson; I wasn't sure about investing the money in the hopes of learning to play guitar. I want to make that decision easier for students with aspirations of learning today." He now cites his decision to proceed with his lessons as one of the best and most formative of his career.
Those involved with the music scene in Fort Lauderdale are likely familiar with Dyce Kimura's name. He began teaching guitar in the South Florida area years ago, and he has since become one of the most well known Fort Lauderdale guitar teacher, with services that expand beyond traditional lessons. After realizing that he could only teach a limited number of students in his area, Dyce began to search for other ways to connect with eager guitar enthusiasts. He looked to the internet and emerging technologies of the time and discovered Skype. He then came up with the idea to teach individual Skype guitar lessons, and is one of the few Skype guitar teachers to become truly successful.
Furthermore, Dyce Kimura has made sure to offer lessons to students interested in classical, acoustic, and electric guitar. He says "I noticed that students were coming to me with different requests, and I wanted to be able to accommodate them all!" He taught himself to become proficient in the different styles, and with different instruments, so he could properly teach those who come to learn from him. Over the years, Dyce has indicated that the primary reason for teaching guitar is to share his passion for the instrument with others. "I want to be able to help all of my students to love the guitar as much as I do so that they can have that skill for the rest of their lives."
Dyce Kimura is a highly lauded and professional Fort Lauderdale guitar teacher offering Skype or traditional lessons in classical, acoustic, and electric guitars.
Contact:
786-457-3687