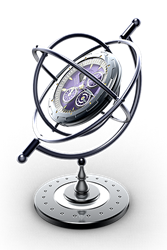 Websites can now know automatically if a user is human or a spam bot.
Luxembourg City, Luxembourg (PRWEB) April 04, 2014
Oxford Bio-Chronometrics, the online security and authentication company, announced today that it has moved to Luxembourg. From its new home, Oxford Bio-Chronometrics plans to announce several new online security products in the coming months.
Ambitious start-up Oxford Bio-Chronometrics began its life in the software incubator of Oxford University's technology transfer company, Isis Innovation, and specializes in the development of Bio-Chronometric authentication and authorization solutions for Web sites of any size and any industry. Its first product, NoMoreCaptchas, set a new standard for online user authentication and spam bot prevention. As CEO Adrian Neal stated at the opening of the new Luxembourg office, "Luxembourg is a safe harbor for Intellectual Property and boasts one of the most modern data center parks in the world with low latency connections to all of the major European Internet hubs. Those were crucial factors in our decision to move here."
Innovative Identification Tool for Internet Authentication and Authorization
Bio-Chronometric Authentication and Authorization captures user inputs and creates a unique signature that cannot currently be replicated by human beings or internet robots. Since it works on all devices, regardless of operating system, it creates the most secure authentication to date and the world's first true, continuous, always-on, passive internet security.
These Bio-Chronometric Signatures are derived from algorithms - developed and owned exclusively by Oxford Bio-Chronometrics - that factor in behaviors when a person uses a computer, tablet or smart phone. These behaviors cannot be duplicated artificially and are more unique than a finger print. NoMoreCaptchas uses these behaviors to replace the ubiquitous hard-to-read numbers and letters most websites use to verify that a user is a real person.
Oxford Bio-Chronometrics' solutions deliver customer authentication and authorization for online banking and e-commerce applications, as a highly innovative next generation authentication tool, more efficient and user-friendly than current methods. Since Bio-Chronometric authentication cannot be hacked, copied or stolen, the Internet is about to experience a new level of security.
Winner of Prestigious Prizes
Last year, Oxford Bio-Chronometrics won the TreveriMarket's first Annual Start-up Competition at ICT Spring Europe 2013. TreveriMarket (http://www.treverimarket.com) is an online incubator actively helping to develop and promote start-ups. As the judges commented, "With its potential to truly revolutionize the way we do business on the Internet, Oxford Bio-Chronometrics stood out as the clear winner" among the 30 participating start-ups and growing companies.
In July 2013, Oxford Bio-Chronometrics was awarded a 12-month Europe4StartUps package including cloud computing, business, networking and marketing services. Europe4StartUps is a non-profit organization based in Luxembourg that aims at helping selected young companies to start up or boost their ventures in Europe by offering them one year worth of business services for free.
About Oxford Bio-Chronometrics
Oxford Bio-Chronometrics was founded by Adrian Neal, a former software engineering Masters' graduate and cryptographics expert with over 25 years' experience in IT, Banking and Security. The company was created in 2012 by a team of former post-graduate researchers at the University of Oxford in order to commercialize the Bio-Chronometric Signature, which is algorithmically derived from bio-chronometric markers that cannot be copied. The following year, Oxford Bio-Chronometrics was established as a venture within the software incubator of Isis Innovation, the technology transfer company wholly-owned by Oxford University. In March 2014, Oxford Bio-Chronometrics established its Head Office in Luxembourg.