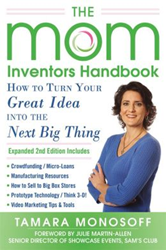 St. Louis, MO (PRWEB) April 04, 2014
Goldfarb is featured in a new book by Tamara Monosoff, one of the nation's best-known small business experts for product entrepreneurs.
The second edition of Monosoff's book is now available for purchase on Amazon, as well as several other websites. The Myself Belts story is included as an example of a mom-invented business that was started by the invention of an innovative product.
The book includes written and personal stories from over 50 entrepreneurs and is meant to inspire others as they consider becoming an entrepreneur. Information with clear steps about patents, funding, manufacturing, sales, publicity and licensing are all a part of this business handbook.
Monosoff's book answers many questions that Goldfarb wishes she had had at that time as it would have helped in her educational process of becoming a business owner. Now, Talia is excited for others who will have the chance to gain knowledge and have their questions answered with this new book.
Myself Belts launched in 2004 out of a common parenting need, Goldfarb's son potty training. Without the added bulk of a diaper, his pants were loose and required a belt. She struggled to find a solution because the belts with buckles just didn't work with his small hands, and he wanted to be independent after having mastered potty training. Also, he needed something that could be quickly undone at a moment's notice. Goldfarb discovered that there weren't any belts on the market geared towards young children. In partnership with her sister, Goldfarb decided to take matters into their own hands and invent a belt made specifically for kids. Myself Belts are the only one-handed belt and the easiest belt on the market to use. Through promoting children's independence and solving a common parenting frustration, Myself Belts just make life easier.
# # #