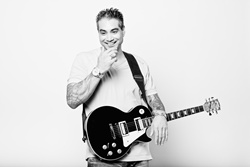 Fort Lauderdale, FL (PRWEB) April 15, 2014
In today's unreliable job market, businesses and professionals are relying on social networks to find new employees or to locate new jobs. If a trusted worker refers a friend or acquaintance to his or her boss, that person's chances of being hired increase. Of course, this is not news to anyone familiar with the business world. People trust the judgment of knowledgeable individuals when making important decisions. Fort Lauderdale guitar teacher Dyce Kimura understands this, and wants to reward those students who refer new ones to him. Like all business, guitar lessons rely on social connections as much as good advertising.
Therefore, if any of Dyce's former or present students make referrals for lessons and the individuals referred agree to Skype lessons, the referring students will also receive a complimentary lesson via Skype. The referring students may have taken Skype guitar lessons or simply be a part of the local community taking Fort Lauderdale guitar lessons from Dyce Kimura. As a Skype guitar teacher, Dyce is seeking to promote the creation of a network between his former and current students, as well as potential future students. This will allow them to share what they have learned and enable them to practice together in their spare time. Additionally, this type of network can cultivate support, encouragement, and positive feedback among peers – all of which are vital to learning and growing musicians.
Dyce Kimura hopes his students benefit from his instruction, and he intends to express his gratitude to them not only for their patience and commitment to the art of guitar, but also for their loyalty to him as an instructor. While explaining his new promotion, Dyce said, "I always try to refer my friends to good restaurants I've eaten at or good books I've read, and I would hope that my students, if they have learned from me, might do the same. This is my way of thanking them for spreading the word and getting others interested in guitar."
Dyce highly values the Fort Lauderdale community, but was also interested in expanding his student base. This came to fruition when he discovered Skype. For the past several years, he has taught a large number of students via this program, in addition to his traditional Fort Lauderdale guitar lessons. His online business has grown as the possibilities offered by technology have increased and become more reliable, making the Skype lessons as efficient as those taken in person.
Dyce Kimura is a theoretical and practical guitar instructor in the Fort Lauderdale area, offering lessons in various guitar styles in person and via Skype.
Contact:
786-457-3687