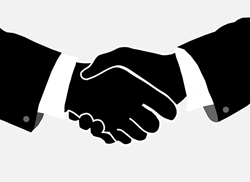 "We are fortunate to have our long-time trusted CPA available to us in this way," said Jaime Raskulinecz, CEO of Next Generation Trust Services.
Roseland, NJ (PRWEB) April 23, 2014
Greg Swanson, CPA, based in Red Bank, N.J., has contracted with Next Generation Trust Services to become chief financial officer for the firm, effective April 1. Swanson has served as Next Generation's accountant for over 12 years but will become more involved in the daily financial operations of the growing company. Next Generation provides account administration and transaction support for self-directed retirement plans.
As the CFO, Swanson will act as an internal auditor to Next Generation as well as review procedures for best practices, make sure the firm has the controls in place to ensure proper financial accounting and reporting, recommend ways to improve internal reporting processes and oversee all account balancing. He will provide his services on an ongoing basis, including being available to consult with the staff on any issues that arise.
Swanson holds a BS in accountancy from Villanova University and is a member of the American Institute of Certified Public Accountants, the New Jersey Society of Certified Public Accountants and the Community Associations Institute. He opened his private practice in 2000.
"We are fortunate to have our long-time trusted CPA available to us in this way," said Jaime Raskulinecz, CEO of Next Generation Trust Services. "Gregory will help us improve our financial systems and controls as we continue to see significant growth in client activity and assets held for clients." Next Generation's clients make all their own investment decisions, which may include a broad array of alternative assets not allowed in regular IRAs. The firm executes the transactions on behalf of its clients' self-directed IRAs based on the clients' instructions, and ensures the transactions meet IRS investing guidelines.
For information about self-direction as a retirement wealth-building strategy or to open a new self-directed retirement account, call (888) 857-8058, email Info@NextGenerationTrust.com or visit http://NextGenerationTrust.com.
About Next Generation Trust Services
Next Generation Trust Services (NGTS), headquartered in Roseland, New Jersey, is a professional third-party administrator of self-directed retirement plans. NGTS provides education, administrative support, and account maintenance to individuals interested in self-directing their retirement portfolios with a wide variety of investments that are not typically found in an IRA, such as real estate, precious metals, notes and mortgages, private placements, accounts receivables, limited partnerships, hedge funds, and much more. Next Generation Trust Services serves clients globally via its website, http://www.NextGenerationTrust.com. For more information on self-directing a retirement plan, call 973-533-1880, 888-857-8058 (toll free), or e-mail Info(at)NextGenerationTrust(dot)com.