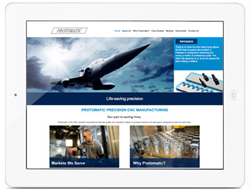 Dexter, MI (PRWEB) April 04, 2014
Protomatic, a CNC contract manufacturer in Dexter, Michigan, has launched a new website (Protomatic.com) that clearly describes the company's services and capabilities — particularly in the medical and aerospace industries.
The website was designed to reflect the Protomatic brand position of "Life-Saving Precision." Managing Director, Doug Wetzel said, "Lives do indeed depend on the products we make. When it comes to medical CNC machining and aerospace CNC machining, there is simply no room for error. Life-saving precision is what we do."
That commitment is evident throughout the new website, which is easily viewed on either desktop computers or mobile devices.
Information can be found on the equipment and methods Protomatic uses in CNC machining of virtually any medium from plastic, aluminum and steel to super alloys, titanium and refractory metals.
The website also highlights a broad range of capabilities it offers including: CNC multi-axis vertical machining; C-Axis CNC lathing for precision turning; welding, plasma cutting; CAD – CAM - CMM, CNC milling; CNC turning; fixtures; and tools and dies.
Particular attention is paid to the medical and aerospace industries throughout the site. The Medical section highlights various areas in which Protomatic has special capabilities such as surgical tools, and components for orthopedic and cardiovascular applications. The Aerospace section gives insight into both commercial and military aircraft and space vehicles.
One of the cornerstones of Protomatic is helping startups bring their products to market. Wetzel has said, "We have the staff to bring your design to reality, utilizing CAD/CAM and modern equipment to efficiently manufacture your components." With that attitude, it should come as no surprise that the new website highlights the company's expertise in prototyping for a variety of industries.
There is, of course, much, much more to be found on the new website. Learn more at Protomatic.com.