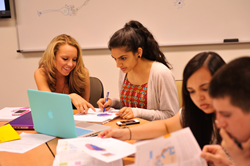 Baltimore, MD (PRWEB) April 04, 2014
The University of Maryland, Baltimore County (UMBC) has opened up registration for Summer Session 2014. Summer session at UMBC makes graduating in four years easier to attain, by offering students an opportunity to catch up or get ahead on credits. Current UMBC students, incoming Fall 2014 students, and visiting students from other institutions are all welcome!
UMBC offers summer courses in two sessions. Session I courses start May 27, and Session II courses start July 7. Courses are offered over 4, 6, 8 and 12 week time frames.
Online, in-person, and hybrid courses, which blend in-person and online learning, are offered during the session. Summer Session 2014 courses span the disciplines, providing options for students who need to earn general education requirements or credits toward their major.
To meet the needs of the many UMBC students in science, mathematics, technology and engineering majors, UMBC provides a number of high-quality, introductory STEM courses. Students in Summer STEM courses will benefit from an active-learning methodology, dedicated faculty, and academic support. With most courses transferable, visiting students from other institutions can also earn STEM credits at UMBC.
For more information on course offered and other Summer Session 2014 details, visit: umbc.edu/summer.