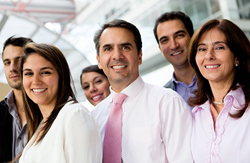 One word comes to mind when describingmy experience with CHL - 'Transformational.'
Dallas, Texas (PRWEB) April 03, 2014
In response to a growing demand for its high-impact two-day workshop for Hispanic talent, Center for Hispanic Leadership (CHL), which has successfully helped thousands of Latino professionals to accelerate their advancement in the workplace, announced today that it will hold its flagship Discover Your Hispanic Leadership Impact and Influence workshop, at the University of Dallas on May 20-21. This workshop marks the third city stop for CHL, which will also hold trainings in Minneapolis and Atlanta later this year.
"The University of Dallas Satish and Yasmin Gupta College of Business is pleased to host the Center for Hispanic Leadership workshop, Discover Your Leadership Impact and Influence," says Dr. Rodney Williams, Director of Executive Learning at the University of Dallas. "We pride ourselves on working with community partners that facilitate professional development leadership initiatives that make an immediate contribution to all."
Across all industries, Hispanics are eager to embrace their cultural values as a means to awaken their full potential. Additionally, they are extremely interested in learning how to educate their non-Hispanic colleagues about the Hispanic culture and how it shapes the identity of Latinos. Through it cultural characteristics framework, CHL has proven successfully that when Hispanics fully leverage their cultural values, they ultimately become more successful because they enable the natural ways they think, act, and innovate to lead more effectively and authentically.
"As the fastest growing workforce in America, it's now time for Hispanic professionals to be discovered as leaders while elevating their performance capabilities and enabling their unique talents more rapidly," says Glenn Llopis, CHL CEO/Founder, Forbes business leadership contributing writer, and go-to-authority on Hispanics, who will also lead the workshop in May.
Since Hispanics will comprise 18 percent of the labor force by 2018, organizations, corporations, and universities will need to better prepare Hispanics with culturally-relevant education and training in order to increase the talent pipeline of Hispanic employees. Major corporations, that have both sponsored past CHL workshops and also sent their high-potential Hispanic employees to the trainings, have witnessed first-hand the ROI from workshop graduates. According to CHL post evaluations, corporations report that Hispanic employee workplace engagement increased by more than 70 percent and that Hispanic employee retention rates increased by 69 percent post workshop.
According to Claudia Lara, a 2013 Emory University Goizueta Business School CHL Workshop graduate and current Global Business Development Manager at Discover Financial Services, the CHL workshop experience was transformational. "The understanding that CHL's 'cultural characteristics framework' is deeply rooted from within our family values that shape our work experiences provided me more clarity about myself than any other leadership program I have attended," she explains. "It was as if someone illuminated the missing puzzle piece, as I instantly understood why I was good at certain leadership skills while I struggled with others."
Adds Robert Scherer, Dean of the University of Dallas Satish and Yasmin Gupta College of Business, "We are proud to host CHL's workshop, which enables so many Hispanic leaders to cultivate their talents as innovators and managers."
During the CHL workshop, which will provide more than 20-hours of in-person and pre-work instruction, participants will learn how to harness their cultural roots as a source of strength for career advancement. Adds Llopis, "Hispanic professionals need to understand that by being authentic to their true identities they will unleash their hidden potential – yielding great success for themselves and the corporations they work for."
For more information about attending the workshop and/or sponsorship opportunities for your corporation, please contact Annette Prieto-Llopis at APrieto(at)centerforhispanicleadership(dot)com or at 949-387-2609.
CHL Two-Day Workshop Program – Dallas
May 20 – 21, 2014
8:30am – 5:30pm
University of Dallas
Satish and Yasmin Gupta Business School
3115 Namur Lane
Irving, Texas 75062
Cost: $2,500 per participant (corporate sponsorship available)
Workshop materials Include: books, self-evaluation, and assessments
Attire: Business Casual
Breakfast, snacks, and lunch will be served.
Enrollment is open through May 2, 2014.
About Center for Hispanic Leadership
CHL is a nationally recognized thought-leadership, human capital, and business strategy consulting firm whose product and service offerings for Fortune 500 and 1000 clients as well as entrepreneurs include leadership and talent development, cultural competency, career advancement, marketing to Hispanic consumers, business strategy and modeling, and workplace culture transformation.
CHL's extensive library of culturally-relevant content includes published books, ebooks, whitepapers, blogs, etc. that has been featured on hundreds of trade publications, online magazines and nationally syndicated television and radio shows. CHL clients represent best-in-class organizations across multiple industries. For more information, please visit http://www.CenterforHispanicLeadership.com.