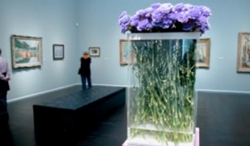 Carpinteria, CA (PRWEB) April 03, 2014
Eye of the Day Garden Design Center will be providing design assistance for the Suntory Flowers exhibit at the upcoming Ventura California Spring trials at the Ventura Botanical Gardens, to be held Saturday, April 5th to Thursday, April 10th. Eye of the Day will be providing its Fermob French outdoor furnishings, Francesco Del Re Italian pottery, and other European terracotta and glazed pottery vessels to showcase and highlight Suntory Flowers' bright blossoms for an eye-popping exhibit, fit for any outdoor enthusiast.
The California Spring Trials is a week-long, industry-only event that is well known throughout California, as well as to businesses within the horticulture realm looking to display their latest plant varietals, as well as trending gardening tools and products. At the event, during which plant breeders, growers, and suppliers are in attendance, vendors are free to market themselves, as well as partake in learning about effective merchandising programs and packaging within the industry.
"We're more than excited to work with the award-winning Suntory Flowers," said Owner Brent Freitas, "because we're able to collaborate with flower experts to create the most visually appealing designs and planting arrangements, suitable for our California weather. Suntory is known for its blue-toned carnations, and we're known for our one-of-a-kind, colored garden pottery glazes… so we're excited to come together to create vibrant, natural art for the outdoors."
Suntory Flowers is also well known for its Surfinia line of flowers, which are a combination of deep red and white petunias; as well as its Sun Parasol line that has sold more than 16 million pots to gardening enthusiasts from around the world. In addition, Suntory was behind the first blue rose ever created in history, as well as the world's only blue-toned carnation, which is sold with its vibrant streaks of color and delicate, fringed edges on special occasions.