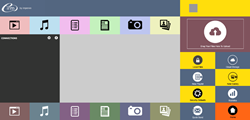 "This is like DropBox on Steroids"
Toronto, ON Canada (PRWEB) April 03, 2014
The Impervio e-irm System provides an Impenetrable Data Security Fortress which can protect any type of data that needs to be transferred from one point to another. Impervio e-irm can protect a single data file, multimedia file, graphics, a video, movie, e-book, audio files, online event ticket, financial transaction data, and any digital package that needs to get from one place to another. Supports 300 file formats.
"The Impervio e-irm System is an intelligent new data security and point of use delivery system enabling networks and computers the ability to automate rules based securing and delivering of files, documents, data packets, digital products and communications, by greatly increasing threat protection by eliminating the honey pot, middleman and direct access download attacks."
In fact many users refer to the Impervio e-irm System to, "Dropbox on Steroids".
All data base protection systems and information rights management systems deal with problems related to data protection, cyber security, internal intrusion, data transfer, file transfer, files in transit, files at rest and illegal file sharing which lead to stolen intellectual property, stolen customer data, stolen corporate trade secrets, huge legal suits, costs, damages and huge financial losses. These are the very serious problems companies, governments and military organizations inherit when protecting data, systems, and application platforms.
The fact is most data encryption protection systems can be hacked in about 4 hours by Echelon Hackers by simply requesting a file and obtaining the encryption key or the encryption system is sniffed and a patch is built to bypass security protection functions. The now cracked or patched data products are posted freely on the Internet for other fellow hackers to exploit.
The Impervio e-irm System uses proprietary Stealth Rated, 100% Secure Data Protection technology called Impervio, which uses fips 140 – Level 4 compliant algorithms for encryption which provides the highest level of security protection above Military Grade encryption.
There is no need to worry about network security breaches, unauthorized file use, illegal file sharing, lost or stolen devices, employee bring your own device, corporate espionage and disgruntled employees which are serious threats and weaknesses in data storage and information rights management systems.
Impervio e-irm extends 100% data security protection to file storage inside our Impervio cloud based servers, files in transit, files at rest and files being used by internal (employees) and external (non-employee) users. In other words Impervio e-irm provides complete end to end 100% Data Security Protection.
Impervio e-irm provides the perfect choice for any sized business.
Impervio e-irm offers a dramatic increase to productivity and workflow to small, medium and enterprise businesses. Why pay thousands of dollars for server software, tens of thousands for servers and hundreds of thousands of dollars per year on security experts and server support staff to manage your valuable company data, customer data, trade secrets and intellectual property? The Impervio e-irm Cloud Based System offers a very cost effective solution.
Fully Customized e-irm Server Software is also available.
The Impervio e-irm System would have protected the National Security Agency and stopped Edward Snowden from stealing and publishing highly classified files; Washington: Intelligence officials investigating how Edward J. Snowden gained access to a huge trove of the country's most highly classified documents say they have determined that he used inexpensive and widely available software to "scrape" the National Security Agency's networks, and kept at it even after he was briefly challenged by agency officials.
Impervio Technologies Inc. is a dynamic new software company which employs some of the worlds' brightest and most sought after security, software and technology experts.
Impervio Technologies is leading the way to a new era of cognitive computing and secure data transfers by developing new technologies that are able to think and write software code for itself.