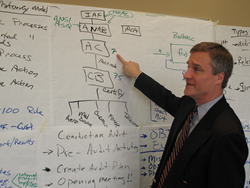 The internal audit class enabled me to use the ISO process as a benefit rather than a burden to our operation.
Saint Louis, Missouri (PRWEB) April 04, 2014
Bizmanualz, Inc., a business process management and lean ISO consulting company, announces the latest ISO Internal Auditor Class held in Saint Louis, Missouri June 5-6, 2014. Students new to ISO 9001 learn how to read the ISO standard, develop audit plans, and perform process audits.
Bizmanualz learning experience explains how to use ISO Audits to determine how well Quality Management Systems conform to planned arrangements, ISO requirements, and effective implementation. Auditors learn their role in an ISO 9001 QMS to ensure the process approach is used in achieving Continuous Improvement.
"The internal audit class enabled me to use the ISO process as a benefit rather than a burden to our operation," explains a local manager that attended the class. "I am very pleased with the two-day course and time spent. The content was appropriate and the training was a solid investment for our company."
The internal auditor course takes the mystery out of the audit process. It explains audit definitions in simple terms; the process and benefits of an internal audit; and the roles and responsibilities of all participants. This two-day course will enable attendees to understand:

The key principles of planning and performing audits
How audits fit into the overall quality management system
Management's role in the QMS and auditing process
How to conduct an ethical and objective internal audit.
Bizmanualz Internal Auditor course will benefit:

Individuals participating in an internal audit for the first time
Employees of companies with an existing ISO Quality Management System
Employees of companies considering implementation an ISO QMS
Employees who are on the audit team
Quality professionals who want a refresher course.
The two-day class is structured with class room sessions, group exercises, case studies, situational simulations, role playing and discussions and exercises on how to plan, perform and report audits.
Bizmanualz has been at the forefront of delivering lean ISO Quality Management Systems and business process improvement services to help business owners achieve the growth and expansion they foresee. Bizmanualz policies and procedures are available by calling 800-466-9953 (outside the U.S. call 314-863-5079); faxing 314-863-6571; e-mailing sales(at)Bizmanualz(dot)com; or logging on to http://www.Bizmanualz.com. Bizmanualz® is a registered trademark of Bizmanualz, Inc.